Why Dave Franco Really Hopes They Get To Do Now You See Me 3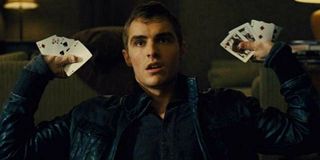 It's been a mixed year for sequels. While the Top 10 at the worldwide box office admittedly consists of five follow-ups, there's been a general feeling of malaise over just how many there has been, which has been reflected in their underwhelming reviews and grosses. Now You See Me 2 is one such film that looks as though it will fail to eclipse its predecessor's haul, but Dave Franco has admitted that he still holds hopes that he'll get to film a third installment as he just really wants to spend time with his co-stars again.
Dave Franco made this admission to me over the weekend when I sat down to talk to him about Nerve, the upcoming teen thriller that he stars alongside Emma Roberts (it is due out at the end of July). However, following Now You See Me 2's release and since Summit Entertainment had already begun planning Now You See Me 3 since May 2015, I decided to ask the younger Franco on an update. He explained:
Unfortunately for Dave Franco things aren't looking too good for the Now You See Me reunion that he obviously covets. Released back in 2013, Now You See Me proved to be a surprise box office smash, grossing $351.7 million from just a $75 million budget, as moviegoers decided that the allure of Jesse Eisenberg, Mark Ruffalo, Woody Harrelson, Isla Fisher, Michael Caine, Morgan Freeman, and Dave Franco doing magic was too good to turn down.
As is Hollywood's wont, plans were immediately put into action for a follow-up. An extra $15 million was added to the budget, while Daniel Radcliffe, Sanaa Lathan, and Lizzy Caplan were brought in to the cast, with Isla Fisher departing, and once again its release date was set for the middle of the summer.
But while Now You See Me was easily able to beat its new release rivals Only God Forgives, After Earth, Byzantium, and The Purge on May 30, 2013, and build up a head of steam because of a weak start to June, too, Now You See Me 2 was beaten by both The Conjuring 2 and Warcraft in its opening weekend release, while Finding Dory, The Shallows, and Independence Day: Resurgence each stopped it in its tracks the following week, too.
So far, Now You See Me 2 has only pulled in $240.6 million across the world, and while its still yet to be released in Spain, France, Germany, and Japan, their figures are far from likely to take it past its predecessor's haul, which is usually what it takes for another follow-up to be green-lit. Those of you after more Dave Franco don't have to fret, though, because you'll get to see him in Nerve when it's released on July 27.
Your Daily Blend of Entertainment News