The All-Time High Movie Ticket Prices Just Climbed To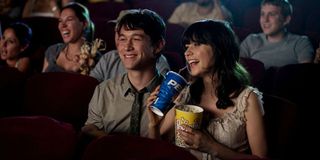 It has become a widely held belief that there exists no art form more democratic than film. It's a medium made easily accessible to the masses because of its ubiquity and low cost. However, what happens when the costs of such an experience continue to go up? As it turns out, that's a reality that the average moviegoer will have to keep contending with, and it's a situation that has become more and more difficult to ignore.
According to a new report from Variety, it looks like it's never been more expensive to enjoy a simple trip to your local movie theater. An estimate from the National Association of Theatre Owners confirms that average movie ticket prices have reached an all-time high of $8.73 per head. If that still sounds low to you, that's because that only represents the rough average, with prices in major metropolitan markets easily surpassing $10 per ticker for a given movie showing.
It's not entirely difficult to see why this average has experienced a steady climb recently. Technology such as IMAX and 3D format have become much more widespread, and the growing prevalence of these more expensive movie showings only add to the overall growing cost of attending a movie screening.
Despite the fact that ticket sales have continued to rise in a linear fashion over the last year, the box office has not suitably reflected that trend. In fact, although the cost of tickets has gone up by 1.4% over the last year, total box office revenue has gone down by roughly 9.5% in the same amount of time, according to this new report.
This continued trend should rightfully cause a degree of worry in the world of movies and movie theaters. The rise in ticket prices represents one of the primary reasons that people simply don't even bother to go to the movies anymore. Other issues like rising concession prices, safety concerns, and presence of alternative viewing methods have also contributed to this overall change. With that in mind, it's one of the many reasons why controversial instant streaming services like Screening Room have become increasingly viable business options. Why bother dropping $8.73 per ticket for a family of five when you can simply spend $50 and have a new release screened in your living room? Not only does this save money on tickets, but it also cuts down on gas and food costs -- not to mention the headache of taking a family to the local cinema.
It's abundantly clear that something needs to drastically change. Rising cost and diminishing profits have become an all too common trend for the movie business, and people have begun to show signs of annoyance at the trend. We will keep you posted with any and all relevant details related to this story as they become available to us. With movies getting as expensive as they are, what new releases do you consider worthy of your hard earned money?
Originally from Connecticut, Conner grew up in San Diego and graduated from Chapman University in 2014. He now lives in Los Angeles working in and around the entertainment industry and can mostly be found binging horror movies and chugging coffee.