James Gunn Reveals If An Infinity Stone Will Appear In Guardians 2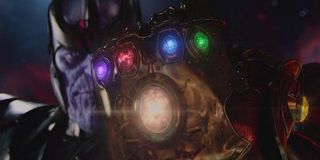 From the earliest days of the Marvel Cinematic Universe, the studio pretty much built this particular franchise of movies around a central set of McGuffins: the Infinity Stones. Even when they did not directly influence the narrative of a film, the Marvel movies consistently hinted at them. This makes sense when we consider that everything has built towards the Infinity War storyline. However, it now seems that James Gunn's upcoming Guardians of the Galaxy sequel will continue to buck tradition and avoid this well-worn storyline.
James Gunn recently took to Facebook to address fan questions over whether or not the Infinity Stones would play a major role in the narrative of Guardians of the Galaxy Vol. 2. He clarified:
Short, sweet and definitely to the point; James Gunn has a distinct understanding of what fans want, and as such he has never been one to mince words when it comes to his work. He wants you to make no mistake and definitively understand that he has no intention of delving into the Infinity Stone narrative with his upcoming Guardians of the Galaxy sequel.
We're not surprised that he's avoiding the Infinity Stones this time around. The first Guardians of the Galaxy completely centered upon the titular ensemble of misfit heroes seeking out and protecting one of the five Infinity Stones. To have Chris Pratt's Star-Lord and the rest of his crew go after more of the highly coveted gems would feel like a rehash of the original narrative. Besides, so many different plot threads were teased in the last movie -- such as Gamora's relationship with Thanos and Nebula, as well as the truth behind Peter Quill's parentage -- that it just doesn't make sense to not explore those intimate storylines.
All that being said, we cannot ignore the fact that the Infinity Stones are about to play a major role in the Marvel Cinematic Universe. Beginning with the Tesseract, the stones have slowly but surely made their devastating introductions, and Thanos has finally gotten his hands on the Infinity Gauntlet. Over the course of Phase 3, we can definitely expect him to obtain all five of these mystic rocks, and with the snap of his fingers he could very well decimate the Marvel Cinematic Universe as we know it.
Ultimately we think it's a good thing that Guardians of the Galaxy Vol. 2 has opted to avoid the use of Infinity Stones. This franchise has made itself known as the Marvel series willing to take serious left turns, and as such we cannot even begin to predict what will happen when it finally hits premieres. Guardians of the Galaxy Vol. 2 will premiere next year May 5, 2017.
Originally from Connecticut, Conner grew up in San Diego and graduated from Chapman University in 2014. He now lives in Los Angeles working in and around the entertainment industry and can mostly be found binging horror movies and chugging coffee.
Your Daily Blend of Entertainment News
Thank you for signing up to CinemaBlend. You will receive a verification email shortly.
There was a problem. Please refresh the page and try again.