How Nebula Fits Into Guardians Of The Galaxy 2, According To Karen Gillan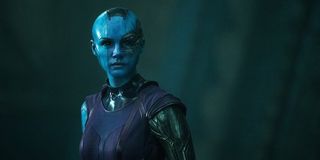 Although she wasn't the main antagonist in Guardians of the Galaxy, Nebula shined as a force to be reckoned with against the eponymous team. Fortunately, unlike her boss Ronan, she managed to make it out of the story alive, and for good reason. Karen Gillan is set to reprise the blue-skinned, cyborg assassin in Guardians of the Galaxy Vol. 2, and while the character's hair situation is still a mystery, the actress has given a clue about we can expect from the villain in 2017.
Having already looked at the Guardians of the Galaxy Vol. 2 script (which she read with Awesome Mix Vol. 2 playing in the background,) Gillan told Comic Book Resources that she's eager to see Nebula and Gamora's relationship more deeply explored. As she put it:
Guardians of the Galaxy wasted no time setting up how dysfunctional Gamora and Nebula's relationship is in the MCU. Both are Thanos' adopted daughters, and one thing they shared in common was the torture and humiliation the Mad Titan put them through as children. The movie didn't delve deeply into their past together past this shared pain, but it was clear Nebula despised Gamora for being Thanos' favorite. When Gamora joined the other Guardians, that was the final straw, and she then tried to see her sister dead. Talk about having sibling issues…
After Ronan snatched the Orb (a.k.a the Power Stone) and kept its power for himself, Nebula agreed to help him destroy 1,000 planets if he would kill Thanos. Nebula fought Gamora during the climactic battle on Xandar, but was eventually overpowered. Rather than accept her sister's help, she opted to flee the scene and flew away on a ship after detaching one of her cybernetic hands. Yes, she was willing to sacrifice an appendage to avoid a reconciliation. That's dedication!
Nebula is one of the many characters that's returning for another round in Guardians of the Galaxy Vol. 2, including the Guardians themselves, Yondu and his second-in-command Kraglin. We don't know what's in store Nebula during the sequel, but if this sisterly relationship is going to be delved into, then it's fair to say that she'll share a fair amount of screen time with Gamora. It's not even certain if Nebula will be a villainous force this time around or is she might serve as a hesitant ally, though we think that Gamora and the others would be wise to keep an eye on her either way.
We'll see Nebula back in action when Guardians of the Galaxy Vol. 2 arrives in theaters on May 5, 2017.
Your Daily Blend of Entertainment News
Connoisseur of Marvel, DC, Star Wars, John Wick, MonsterVerse and Doctor Who lore. He's aware he looks like Harry Potter and Clark Kent.
Your Daily Blend of Entertainment News
Thank you for signing up to CinemaBlend. You will receive a verification email shortly.
There was a problem. Please refresh the page and try again.