Weekend Box Office: Suicide Squad Takes August Record, But Not The Best DC Opening This Year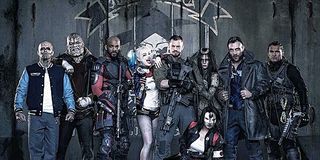 Suicide Squad's August release might have been strategic, given that August was the only summer month left without a $100+ million opening. The DC flick's competition for August's biggest opening was Marvel's Guardians of the Galaxy with its $94 million start two summers ago, giving Suicide Squad a good chance to make a little bit of record-breaking news.
With $135 million, Suicide Squad made a strong debut, but the opening still came in well behind this year's Captain America: Civil War ($179 million, May) and Batman v Superman: Dawn of Justice ($166 million, March) and is only ahead of Finding Dory's debut by less than $100,000. The question now is how well Suicide Squad can hold on going in to its second and third weekends, to perhaps end up above $300 million in domestic sales.
At some point Barry Sonnenfeld and Kevin Spacey must have made a bet wherein Spacey lost and was forced to star in any movie Sonnenfeld demanded. There's no other immediate logical explanation for how Spacey ended up in Nine Lives, a movie so terrible that it was lucky to bank $6 million for a sixth place start. That's the lowest opening for a wide-release Spacey movie since 1997's Midnight in the Garden of Good & Evil, and that's only because tickets were less than half today's prices in 1997.
Jason Bourne slipped over 60% going into its second weekend, barely pushing past the $100 million mark. Star Trek Beyond also tumbled hard on its third weekend and now faces the prospect of being the first post-reboot entry to miss the $200 million mark. The Secret Life of Pets pushed past $300 million this last week, and is within $11 million of passingBatman v Superman.
Now in its eighth weekend Finding Dory finally slipped out of the top ten, but is still pulling seven digits, heaping on to its top year-to-date total of $473 million. There's still some potential strong competition from Fantastic Beasts and Where To Find Them and Rogue One: A Star Wars Story later this year, but both being spin-offs they may not perform to the levels of their base franchises.
For the full weekend top ten, check out the chart below:
Your Daily Blend of Entertainment News