5 Reasons Sausage Party Destroyed The Competition This Weekend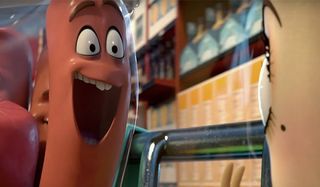 Just when you thought the animated film market was taking a break from overachieving, Sausage Party came to town and topped August's record for an animated film opening. While some might be surprised by this result, we can see why Seth Rogen and Evan Goldberg's latest collaborative effort brought in a healthy $33.6 million at the box office.
Come to think of it, there are five good reasons for the success of Sausage Party, and we're about to share them with you. So tie on your napkin, and dig in, because it's time to learn what's in this sausage.
The August Release Date Was Perfect For A Subversive Movie
Over the past 10 years, August has been a hell of a month for subversive comedy hits to open up. With films like Talladega Nights, Tropic Thunder, The Other Guys, and We're The Millers all taking the crown as the top film of August in their respective years of release, the month has been consistently primed for this very type of comedy. However, considering properties like Guardians of the Galaxy and Suicide Squad are also seen as subversive in their respective comic universes, their success also helps bolster Sausage Party's win. The film is in good company with all of these winners who went from risky and untested concepts to established, and in some cases record breaking winners.
There's Real Brand Recognition For Rogen And His Comedy Cohorts
Sausage Party boasts a star-studded cast that most animated films are used to possessing, with Kristen Wiig, Edward Norton and Salma Hayek adding a good dose of star power. However, it's the presence of Rogen and his comedic brethren that best benefited this film's release, as everyone from Paul Rudd to David Krumholtz, as well as James Franco, Craig Robinson, and Bill Hader has a vocal role in Sausage Party. Whenever this group shows up with even a handful of their numbers, an audience is sure to follow. But put pretty much all of them, minus Jay Baruchel for some reason, into one, sausage cased film? You're practically printing money. If you were a fan of This Is The End, you knew you were going to see Sausage Party from the moment it was announced.
No Real R-Rated Comedy Competition At The Moment
For a month that's been traditionally kind to outrageous comedy, Sausage Party is uncontested for the adult comedy market at the time. Even with Bad Moms currently performing pretty well in theaters at the moment, that film has already made its money and then some, starting a downtick in business that's to be expected. If anything, the audience for Bad Moms probably moved onto Sausage Party, ready for another round of adult fare. But even expanding the picture to the rest of 2016 so far, Deadpool has been the only other uber-successful R-rated comedy to hit this year. So naturally, if the market is more than willing to let Wade Wilson break records like he breaks heads, then Sausage Party also picked up on that demographic's craving for blue humor.
Seth Rogen's Vocal Work Kills It At The Box Office
Out of his top 10 best performing films, half of Seth Rogen's films are animated works that take advantage of his trademark vocal stylings. With all but one of those films being Dreamworks Animation products, the brand recognition for Rogen goes beyond the adult themed comedies that he's made a name for himself with, as even kids that grew up into R-rated ready adults in the last decade will know his works. Even better, the parents of those children haven't gotten an opportunity to see too many of the funnyman's previous PG-13 / R rated offerings, they'll still know the voice of Bob from Monsters vs. Aliens or Master Mantis from Kung Fu Panda 3 enough to check out his work.
Parents Need Animated Humor Too
Of course, another very important factor to Sausage Party's success is that parents need animated comedies to laugh with when the kids are away. With a good piece of Rogen's target demographic moving into the phase of life that typically sees them getting married and having children, the options for their entertainment may seem to narrow along with their free time and film. Sausage Party not only represents a break from parenting duties, but also a good, hearty laugh at the films their kids force them to endure time and time again. Ask any parent who saw both Ice Age: Collision Course and Sausage Party, and 8 times out of 10, you'll probably find out that they prefer Rogen's sausage over Fox's leftovers. So not only are parents a good booster to Sausage Party's theatrical status, they're also likely to help it make a killing in home video and VOD rentals when it goes to the home market.
Senior Movies Contributor
CinemaBlend's James Bond (expert). Also versed in Large Scale Aggressors, time travel, and Guillermo del Toro. He fights for The User.
Your Daily Blend of Entertainment News
Thank you for signing up to CinemaBlend. You will receive a verification email shortly.
There was a problem. Please refresh the page and try again.