The Walking Dead Meets The Donner Party In A Terrifying New Historical Thriller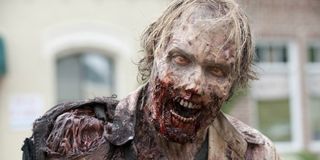 Director Luke Scott is clearly intent on emerging from his father's rather huge shadow. That's because the son of Sir Ridley Scott has wasted no time in acquiring his latest cinematic endeavor, even though his debut feature film Morgan isn't out until the start of September. Luke Scott's sophomore directorial effort sounds like a doozy, too, because it has been described as a retelling of The Donner Party's tragic attempt to trek across America to California in 1846, but with a Walking Dead spin.
For those of you that don't know, the Donner Party was a group of American pioneers that, after setting out west in May 1846, became trapped in the Sierra Nevada during the winter of 1846/1847. Of the 87 members of the party that left, only 48 survived and reached California, and those that did had to revert to cannibalism to do so.
Deadline has reported that 20th Century Fox has already acquired the project, which is entitled The Hunger, despite the fact that the novel that the film will ultimately be based on hasn't even been released yet. Alma Katsu, who previously scribed the multi-award winning The Taker and The Reckoning, is penning The Hunger. It will be published by Paper Lantern Lit in early 2018, who bought the rights in a pre-emptive six figure deal.
Hollywood clearly took an early liking to Alma Katsu's early pages, because Ridley Scott's Scott Free production company has already signed up to produce the adaptation, with 20th Century Fox's executive Steve Asbell helping to oversee it.
Sir Ridley Scott then passed the project down to his son to consider, and Luke Scott clearly decided that it was the perfect film to follow Morgan. But those of you who believe that this decision reeks of nepotism, can rest assured that Luke Scott has already spent several years honing and perfecting his craft as a filmmaker. Probably with a few helping words from his rather talented father along the way.
Scott has worked extensively directing commercials, while also overseeing second-unit direction on several of his pop's feature films, including The Martian, Exodus: Gods And Kings, and Alien: Covenant, before making his directorial debut with Morgan, which will be released on September 2.
Rather interestingly, back in 1997 Tony Scott actually directed the pilot for a Sci-Fi Channel television series that was also entitled The Hunger. Maybe, for Luke Scott, the serendipitous fact that he was being asked to direct another project of the same name as one his uncle worked on was why he said yes. There have been stupider reasons. One of the reasons that Steven Spielberg agreed to direct Jaws was because, like his 1971 television film Duel, its title was just four letters long. And that worked out pretty well for him. We'll keep you updated on news regarding The Hunger as more details become available.
Your Daily Blend of Entertainment News