Don't Breathe's Director Has This To Say About His Movie's Controversial Twist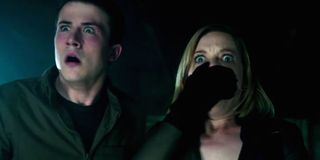 Warning: MAJOR Don't Breathe spoilers ahead! You have been warned.
Pardon the corny joke, but Don't Breathe features a twist in its third act that will genuinely take your breath away. Seriously, who would've ever that a blind man with a turkey baster could seem so much scarier than a zombie or a man with knives for fingers? Don't Breathe's methodical artificial insemination sequence has fans of the film split right down the middle, but director Fede Alvarez apparently stands by his creative choice. He elaborated further:
During a recent Reddit AMA session, a fan asked Fede Alvarez about his decision to include such a grotesque sequence in Don't Breathe. The Redditor who posed the question specifically voiced distaste for the twist, citing the fact that it felt more like an Eli Roth scene than a Fede Alvarez scene. However, Alvarez stood by his decision, and admitted his own personal love for it. He knew from the beginning that the sequence would turn off a large segment of the audience, but in the end it would also win over others, and that's what he wanted.
Just in case you need a quick refresher course (although the scene is probably burned into your memory already) the now infamous "Turkey Baster Scene" from Don't Breathe is nothing if not disturbing. After accidentally killing his pregnant kidnapping victim, The Blind Man (Stephen Lang) ties up Rocky (Jane Levy) in his basement and prepares to impregnate her with a turkey baster full of his own sperm. Rocky eventually manages to get free (and shoves the baster down the Blind Man's throat) but not before a long, meticulous sequence in which The Blind Man prepares to impregnate her and keep her captive for nine months so that she can bear a replacement for his deceased daughter. It's genuinely one of the most unnerving horror movie sequences of all time, and Alvarez knows it.
CinemaBlend already delved deep into Don't Breathe's twist earlier this week, and we generally seem to agree with Fede Alvarez on this issue. We presented a few basic reasons as to why this scene had to happen, but the biggest reason that CinemaBlend readers seemed to gravitate towards was the idea that we NEEDED to have a reason to hate The Blind Man by the film's third act. Up until the twist, The Blind Man's still within his legal rights to defend his home. Sure, he's taking it to extremes, but he can still defend his property. By making him an undeniable monster in the film's third act, the audience instantly gives Rocky the moral high ground, and we root for her survival.
Of course, we doubt that audiences will ever universally come around to Don't Breathe's twist. It's just not that type of movie. Fede Alvarez crafted that twist for fans of the horror genre, and the film's insane financial performance means that it literally paid off.
CinemaBlend will bring you more details related to Don't Breathe as they become available to us. The film is currently in theaters, so make sure to check it out if you have the guts!
Your Daily Blend of Entertainment News
Originally from Connecticut, Conner grew up in San Diego and graduated from Chapman University in 2014. He now lives in Los Angeles working in and around the entertainment industry and can mostly be found binging horror movies and chugging coffee.
Your Daily Blend of Entertainment News
Thank you for signing up to CinemaBlend. You will receive a verification email shortly.
There was a problem. Please refresh the page and try again.