Watch The New April O'Neil And The Original On Screen Together In TMNT: Out Of The Shadows Deleted Scene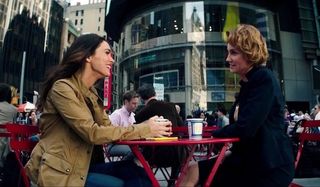 When the Teenage Mutant Ninja Turtles first jumped onto the big screen in 1990, actress Judith Hoag played hotshot reporter/the heroes' first human ally, April O'Neil. Over two decades later, Megan Fox is playing the current iteration, but Judith was invited back to the Turtles' world recently for a cameo in Teenage Mutant Ninja Turtles: Out of the Shadows. Her scene was cut from the theatrical release, but now you can finally see the two Aprils share screen time together in the latest TMNT installment.
To commemorate Teenage Mutant Ninja Turtles: Out of the Shadows being available on Digital HD starting today, Yahoo has released the deleted scene of Megan Fox's April O'Neil with Judith Hoag, who in this universe is playing Rita, the Channel 6 network president. April gets word from her coworker Vern (played by Will Arnett) that Rita wants to see her, and Vern speculates it's for one of two reasons: either she's getting fired or getting a promotion. Fortunately, it's the latter, as Rita offers April an anchor position while they're meeting in Times Square. Rita compliments April on her reporting work, and tells her that the network wants to make her the "new face" of Channel 6.
Being an anchor is definitely a step up from her current work, but April is definitely ambivalent about taking the new job, presumably because it would make it harder for her to work out in the field and hang out with her "sources," a.k.a. the four giant, humanoid reptiles who fight bad guys. However, before she can give Rita a straight answer, the boss gets a call and has to leave, but she assumes April has accepted the job.
While it was great to see two generations of April O'Neils together on the big screen, it's understandable why this scene was cut, since it didn't have any bearing on the main plot. Because of the craziness involving Shredder, Baxter Stockman, Bebop, Rocksteady and Kang, Teenage Mutant Ninja Turtles: Out of the Shadows didn't spend a lot of time focusing on April's reporting career. She was too busy helping the Turtles, Vern and Casey Jones save the world. Teenage Mutant Ninja Turtles 3 hasn't been officially green-lit yet, but if the movie ends up being made, we'll learn whether April decided to keep her new anchor position or stay a regular reporter. The latter option is definitely more conducive for getting involved in crazy superhero shenanigans. There's also nothing stopping Judith Hoag from reprising Rita for a third adventure if the creative team can find another way to include her.
As mentioned earlier, Teenage Mutant Ninja Turtles: Out of the Shadows is now available for purchase on Digital HD, and the Blu-ray/DVD release will follow on September 20.
Your Daily Blend of Entertainment News
Connoisseur of Marvel, DC, Star Wars, John Wick, MonsterVerse and Doctor Who lore. He's aware he looks like Harry Potter and Clark Kent.
Your Daily Blend of Entertainment News
Thank you for signing up to CinemaBlend. You will receive a verification email shortly.
There was a problem. Please refresh the page and try again.