11 Movies Opening In October That We Can't Wait To See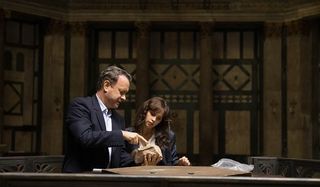 It used to be that October was a month that brought a couple of movies that really delivered, but ultimately, it was still a time frame that was leading to something bigger in November (Thanksgiving) and December (Christmas). But over the past couple of years, through a glut of both prestige offerings and blockbusters that couldn't find a place in the usual tentpole seasons, the month has turned into a hell of a money maker. Which means that we now have something to look forward to, or in the case of our list 11 "somethings," in the coming month of film releases. How many of these upcoming films will you be seeing?
The Birth of a Nation
With the festival circuit fired up about The Birth of a Nation, the awards buzz is starting to climb. On top of that, the first looks at Nate Parker's retelling of the Nat Turner Rebellion have garnered some buzz from the online movie-going community, as this film looks to start some pretty deep conversations about historical events and their modern context. But above all else, Parker's film looks like an incendiary debut, with style and carnage to spare, and that has us more interested than anything else.
Release Date: 10/7
The Girl on the Train
On the surface, The Girl on the Train looks like a Gone Girl cash grab. Let's just all admit we've thought it once or twice before when we saw the actual trailer. Now that we're starting to see additional trailers and TV spots for the film, it's definitely an animal all its own. In fact, the whole central mystery surrounding Emily Blunt's character basically investigating herself is something that has us intrigued. Because if we can't trust ourselves, who can we trust?
Release Date: 10/7
Voyage of Time: The IMAX Experience
Terrence Malick made an IMAX documentary, and we're all aboard for this. Voyage of Time: The IMAX Experience has been kicking about since The Tree of Life was being made, and a good couple of years later we're finally going to see the history of the universe unfold before our very eyes. Even better, Brad Pitt's dulcet tones will be narrating the whole experience, which is really the whipped cream on the sundae for us.
Release Date: 10/7
The Accountant
With a clever re-write, The Accountant could serve as a backdoor origin story for Batman, especially considering Ben Affleck's accounting whiz seems like a pretty bad-assed vigilante himself. Though to do such a thing would rob this film of its special qualities, as it looks to be a thriller for adults, directed by Gavin O'Connor, the man who brought us the similarly mature and vastly underrated Warrior. Tax returns never looked more exciting.
Release Date: 10/14
Shin Godzilla
While some of us really loved Gareth Edwards' Godzilla reboot, others are looking for a more traditional depiction of the god lizard himself. Shin Godzilla has heard you, and is set to bring a film that not only looks like an extremely grounded disaster drama, but also an astounding creature picture at the same time. Also, that new Godzilla looks frightening, as if he were cut from the same cloth as the villains from Attack On Titan. How can you pass those nightmares up?
Release Date: limited engagement, 10/11 - 10/18
Jack Reacher: Never Go Back
There are two things you can count on Tom Cruise to do with his movies: kick a lot of ass, and look impressive doing it. Jack Reacher: Never Go Back is no exception, although this film has him busting down doors alongside falsely accused Cobie Smulders, who's facing charges of treason. For you folks playing the "what if" game at home, this film basically shows us what Cruise's Tony Stark could have done alongside Smulders' Maria Hill, only within the confines of Lee Child's best-selling novel series.
Release Date: 10/21/16
Keeping Up With The Joneses
Never in a million years would we have thought that Jon Hamm and Gal Gadot would be in an action comedy with Isla Fisher and Zack Galifinakis. Clearly, someone out there likes us, as that scenario is really a thing thanks to Keeping Up With The Joneses. While this looks like it could be a middle of the road laugh fest, the fact that it's being released so close to November has us thinking we might have a secret ringer on our hands.
Release Date: 10/21
Ouija: Origin Of Evil
How in the world did the weak tea Ouija score a sequel like Ouija: Origin of Evil. Yes, the film looks like someone watched The Conjuring on the Universal lot, and exclaimed, "WE NEED MORE OF THAT!" But still, it looks like the would be killer board game franchise has adopted the tone of James Wan's blockbusting hits, and done its own thing with it. We'll reserve final judgement for the end result, but suffice it to say, we're very interested to see how this plays out.
Release Date: 10/21
American Pastoral
Ewan McGregor is an actor we still very much like, and wish we got a little more of in our daily lives. American Pastoral thankfully gives us twice the McGregor magic, as the tale of domestic disturbance in the turbulent 1960s is both directed by and starring the once prolific performer. With Dakota Fanning and Jennifer Connelly helping him form a triumvirate of dramatic gravitas, this film teases that something big is about to happen once we've sat down to watch it.
Release Date: 10/21
Moonlight
A story told through three acts in the life of its main character, Chiron, Moonlight looks to be a devastating story of an African American man as he struggles with the subjects of identity and sexual orientation throughout his life. This film was recently brought to the world's attention through a powerhouse trailer that dropped out of nowhere, and that small sliver of footage alone has us feeling the buzz that's about to surround this film. If we want our hearts broken in an elegant fashion, we think we know where to go this fall.
Release Date: 10/21
Inferno
Inferno almost didn't happen. With The Lost Symbol falling apart in the development phases, and the buzz around Dan Brown's Robert Langdon series quieting down, a fourth novel didn't seem to be heading to production anytime soon. And yet, Tom Hanks and Ron Howard decided they'd do it anyway, crafting a film that could reignite the attention surrounding the world's favorite symbologist, as he races against time and human extinction. At the very least, a Hanks/Howard pairing in and of itself is worth our attention, and we're ready to see it when it hits.
Release Date: 10/28/16
Your Daily Blend of Entertainment News
Senior Movies Contributor
CinemaBlend's James Bond (expert). Also versed in Large Scale Aggressors, time travel, and Guillermo del Toro. He fights for The User.
Your Daily Blend of Entertainment News
Thank you for signing up to CinemaBlend. You will receive a verification email shortly.
There was a problem. Please refresh the page and try again.