Every Tim Burton Movie, Ranked From Worst To Best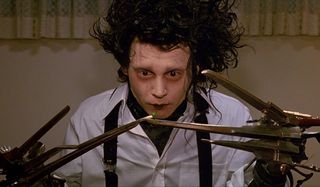 Since making his feature directorial debut in the mid-1980s, director Tim Burton has established himself, without question, as one of the most strikingly different filmmakers in Hollywood. In the last 31 years, he has established a style that is recognized around the world, from his use of Danny Elfman's music to an often large abundance of spirals and stripes. He has delivered audiences breathtaking original visions... and also a couple of stinkers. Today we are here to talk about them all.
With the arrival of Tim Burton's 18th film, Miss Peregrine's Home For Peculiar Children, in theaters this weekend, we figured now would be the perfect time to present our ranking of all of the filmmaker's feature films to date. Read on to find out which titles we gave the top spots.
18. Dark Shadows
Tim Burton has gotten his groove back in recent years, but 2012's Dark Shadows definitely represents his worst work. Everything about it feels either lazy or forced, and it comes together as a slog that's feels interminable even while coming in under two hours long.
17. Alice in Wonderland
If you need any proof that success doesn't equal quality, 2010's Alice in Wonderland makes great evidence. The film is far and away Tim Burton's biggest box office hit -- accumulating over $1 billion worldwide -- but that fact will never overshadow the fact that the movie is a headache-inducing, bright and colorful mess.
16. Charlie and the Chocolate Factory
Mel Stuart's Willy Wonka and the Chocolate Factory is a timeless children's classic that has nothing stopping it from continuing to be passed down from generation to generation. As such, Tim Burton's 2005 remake, Charlie and the Chocolate Factory, was wholly unnecessary from the start, and failed to stick the landing. It's true that the adaptation is a more faithful version of Roald Dahl's brilliant book in some respects, but it still can never shake its lack of raison d'etre.
15. Planet of the Apes
For what it's worth, Tim Burton's Planet of the Apes remake from 2001 does earn a lot of points for its truly stunning makeup and prosthetics work -- courtesy of Rick Baker -- but it does stand as further evidence that the filmmaker just needs to stay away from remakes. Good as Mark Wahlberg can be, this definitely isn't his finest hour, and nothing is helped by the movie's manipulation of the original's classic ending.
14. Corpse Bride
Tim Burton's name carried weight in the stop-motion field for years thanks to his association with both The Nightmare Before Christmas and James and the Giant Peach - but his first attempt at actually directing one of the animated films didn't exactly have the greatest results. Corpse Bride is okay -- featuring some tremendous animation and fun Danny Elfman songs - but there's not much to it. Thankfully, it wouldn't be his last time in the medium.
13. Sleepy Hollow
Filmmakers have been adapting the legend of Sleepy Hollow since the late 19th century (no joke), and in the context of that history, Tim Burton's version is... fine. Of the eight Burton/Johnny Depp collaborations, it sits as fourth best, which is entirely appropriate. It probably won't ever be considered the definitive big screen version of the tale, but it certainly has a nice collection of scares and compelling atmosphere.
12. Sweeney Todd: The Demon Barber of Fleet Street
Tim Burton would have been better off finding a lead with a better voice than Johnny Depp for his feature version of the musical Sweeney Todd: The Demon Barber of Fleet Street - but the movie basically works because it does a good job keeping to the source material. The director makes full use of the R-rating, constructing some gruesome horror bits in the process, and there's even a solid romance put together as well.
11. Big Eyes
The style of Tim Burton is distinctive to the point that you know it as soon as you see it, but 2014's Big Eyes represents the director at his most restrained. Dialing his bolder eccentricities down in favor of telling the story of another artist with equally instantly recognizable style, the result is a tight drama featuring some really fantastic turns from both Amy Adams and Christoph Waltz.
10. Miss Peregrine's Home For Peculiar Children
We don't yet have time to provide larger context for Miss Peregrine's Home For Peculiar Children in the larger span of Burton's work, but right now we're fully confident placing the latest work from the director in the Top 10. Part X-Men, part Harry Potter, and just a dash of Charles Dickens, the film is a legitimately fun adventure that blends a fun fantasy adventure with interesting and emotional commentary on inter-generational relationships (something we've seen in Burton's previous work, and something we'll get into much more later). Based on the book of the same name by Ransom Riggs, the material falls right into Burton's wheelhouse, and he does a fantastic job with it.
9. Frankenweenie
Remember what we were saying earlier about Tim Burton not giving up on stop-motion after Corpse Bride? Well, that wound up paying off in a big way in 2012 with Frankenweenie. The movie was released while we were still trying to get the bad taste of Dark Shadows out of our mouths, but the animated adventure earned the filmmaker a lot of points back towards his legacy. The film is in every way the director returning to his roots - not only being animated, but being a feature-length adaptation of one of his earliest shorts -- and it's legitimately a wonderful, purely-Burton tale of a boy and his dog.
8. Pee-wee's Big Adventure
In the directing of his first feature, Tim Burton hitched his star to Paul Reuben's Pee-wee Herman, and the results are just truly wonderful. Admittedly the titular character in Pee-wee's Big Adventure is a love him or hate him pop culture figure, but for those who enjoy the grown up toddler's antics, his search for his stolen bicycle is pure delight. Burton certainly got the chance to hone is artistic weirdness with the film, and its ultimate success is what led the filmmaker to get the opportunities to make the movies he really wanted to make (most of which are still to come in this ranking).
7. Batman Returns
While superhero franchises are all the rage today, sequels in the genre were troublesome back in the late 20th century -- but this is one that legitimately works. Building on the success of the first film (which we'll get to in a minute), Batman Returns is a film that time and perspective has done a lot of favors. Both Danny DeVito's Penguin and Michelle Pfeiffer's Catwoman are legitimately iconic big screen visions of the famed Dark Knight foes, and while the movie is not exactly the comics come to life, it is justifiably Burton's vision of Batman, and it's pretty damn entertaining.
6. Batman
People have loved Batman for decades, but Tim Burton's 1989 film created a true phenomenon surrounding the character. The blockbuster was insanely hyped leading up to its release, and it not only successfully lived up to audience expectations, but it helped transform the way that pop culture perceived the hero. It's true that a confusing amount of screentime is dedicated to Jack Nicholson's Joker over Michael Keaton's Batman/Bruce Wayne, and by modern standards its action is extremely low-key (not to mention occasionally silly), but there's no denying its incredible entertainment value and greater influence on the world of comic book movies.
5. Mars Attacks!
Inspired by the technological revolution byproduct of the Cold War as well as growing talks of rockets in space, science-fiction from the 1950s is a special and unique portion of film history that has inspired the minds of many great filmmakers. This is a list that includes Tim Burton amongst George Lucas, James Cameron, and Steven Spielberg -- and it was specifically that love that inspired Mars Attacks!: a film that ultimately works because of the legitimate passion for the material.
A loving satire that is sometimes as stupid as it is funny, the movie boasts one of the best ensembles that Tim Burton has ever put together -- featuring Jack Nicholson, Michael J. Fox, Sarah Jessica Parker, Glenn Close, Annette Bening, Martin Short, and Tom Jones amongst many other -- and perfectly plays on the best 1950s sci-fi tropes. And if you're looking for an extra bit of fun with the film, try giving it a watch with the color on your TV dropped down and the contrast turned way up. You may wind up missing the glowing red and green skeletons a bit, but it just feels like the more natural presentation for the material. Give it a try and thank me later.
4. Edward Scissorhands
Much like Frankenweenie, Edward Scissorhands is a movie that has very deep roots for Tim Burton. The titular character was born in the mind of the director when he was a teenager growing up in Burbank, California, and expanded into a screenplay by Caroline Thompson the result is one of Burton's most aesthetically beautiful and exquisitely original works.
The mere image of Johnny Depp as Edward Scissorhands is an illustration of Tim Burton's iconic aesthetic -- fully of pointy lines and deep curls -- and nowhere else is his peculiar interest in suburbia better explored and utilized. It's an unapologetically odd film that wears every ounce of its weirdness on its sleeve, but also doesn't let it detract from its incredible heart. Furthermore, Edward Scissorhands was the first time that Burton worked with Johnny Depp, and that collaboration wound up changing the shape of the director's career -- occasionally for the worst, but primarily for the better.
3. Beetlejuice
Beetlejuice is a special film. Driven by the creative mind of a director with a particular fascination with death, it's a tremendously vibrant and imaginative adventure that builds its own universe filled with off-kilter design and characters.
Michael Keaton's performance as the titular Ghost With The Most is the true draw, with the actor putting in a wonderfully disgusting yet captivatingly charismatic turn -- and it stands out because we've truly never seen anything like it before. Really, though, everything about Beetlejuice is memorable and brilliant: from the trip through the afterlife's waiting room, to the "Banana Boat" singalong at the dinner table, to the graveyard introduction of the black-and-white-striped villain. It says everything that this was the film that Tim Burton decided he wanted to make after the great success of Pee-wee's Big Adventure, and it's the first movie you point to in the discussion of the auteur's style. It's bold, scary, funny, original, and really a movie for absolutely everybody.
2. Big Fish
In case you haven't noticed the theme yet, Tim Burton is truly at his best when his heart and soul is entirely in a project, and it speaks to him on a certain personal level. With the 2004 father-son reconciliation drama Big Fish, it was a case where Tim Burton was dealing with the loss of both of his parents, who died in 2000 and 2002, respectively -- and found that the John August script very much reflected his relationship with them. It comes through absolutely, as it's unequivocally Burton's most emotional film.
Given the mold of the Southern Gothic aesthetic and the freedom that comes with blending fantasy and reality, Big Fish is arguably Tim Burton's most vibrantly beautiful film -- with images of a flower-filled meadow on a bright blue day, a town illuminated with string lights, and a man making peace with his father on his deathbed forever seared in the memory of the any movie-goer. It was an epic rebound after the unfortunate Planet of the Apes, and is his most recent truly brilliant film.
1. Ed Wood
Edward Davis Wood, Jr. was not a talented filmmaker, but there is nobody on Earth that could say that he wasn't an utterly fascinating human being. The power of his drive and passion alone makes his story notable... but then there was his crossdressing, his deep love of angora sweaters, and, again, the fact that he was an utterly terrible filmmaker.
In his 1994 film Ed Wood, Tim Burton shared the world of the Plan 9 From Outer Space director with audiences, and it's not only Burton's greatest work, but one of the greatest biopics of all time. Stranger than fiction doesn't begin to cover the tale of its central figure, but the movie succeeds both because it's laugh-out-loud hilarious and because it's downright inspiring. During his filmmaking career, Ed Wood was told dozens if not hundreds of times that he was completely incompetent, but he was a man with a dream, and would do absolutely anything to achieve it -- motivation off the charts. Brought to life with a brilliant ensemble including Johnny Depp, Martin Landau (who won the Oscar for his performance), Sarah Jessica Parker, Bill Murray, Patricia Arquette and Lisa Marie, it's Burton's true masterpiece and a perfect film.
NJ native who calls LA home; lives in a Dreamatorium. A decade-plus CinemaBlend veteran; endlessly enthusiastic about the career he's dreamt of since seventh grade.
Your Daily Blend of Entertainment News
Thank you for signing up to CinemaBlend. You will receive a verification email shortly.
There was a problem. Please refresh the page and try again.