Fantastic Beasts Ending: A Key Scene That Was Cut, And Why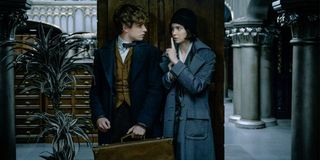 WARNING: There are huge SPOILERS ahead for Fantastic Beasts And Where To Find Them. They're the type that will ruin it completely for you, as we're discussing the very end of the film here. Only proceed if you've seen the movie. Please. For your own sake.
As the first installment in a five film franchise, Fantastic Beasts And Where To Find Them was always going to have to tease to the future. The revelation that Gellert Grindelwald (Johnny Depp) had been masquerading as Percival Graves (Colin Farrell) throughout the film heavily suggests that the dark Wizard will be the biggest threat going forward, while the apparent death of Credence Barebone (Ezra Miller) would have led you to believe that his tale is now done. But not according to producer David Heyman, who revealed to me during last week's New York press junket for Fantastic Beasts And Where To Find Them that a key scene showing Credence alive and well following his supposed death was cut from the final film.
David Heyman doubly confirmed that Credence will still be involved in the Fantastic Beasts And Where To Find Them franchise later on in our discussion, too. After I quizzed him about whether Newt Scamander will be at the heart of the franchise he responded by listing of all the characters that are in the follow-up, which included Credence.
All of which is quite a shock because it very much appeared to us that Credence had gone to the big Hogwarts in the sky at the end of Fantastic Beasts And Where To Find Them.
The final act of Fantastic Beasts And Where To Find Them launches with the reveal from Credence that it is he, not his adopted sister Modesty, that has been possessed by the Obscurial. This then provokes him to let loose and become incorporeal, and he proceeds to destroy large parts of New York City. Eventually Newt (Eddie Redmayne), Tina (Katherine Waterston), and Graves (Colin Farrell) locate Credence underground where he goes back and forth between corporeal and incorporeal state and becomes more and more erratic. When the Aurors arrive, they order the death of Credence, and destroy his incorporeal state... seemingly killing Credence in the process.
David Heyman's comments don't just prove that's not the case, but they also suggest that Credence follows Newt Scamander back across the pond, where he'll almost certainly get entangled in Fantastic Beasts And Where To Find Them 2's shenanigans. In what capacity is anyone's guess, though. He might be using Newt Scamander to get closer to Dumbledore. Or to launch attacks and spread the evil Wizarding word across Europe on behalf of Gillert Grindelwald. Or maybe he just wants to be Newt's Magizoologist assistant.
We have quite a bit of time to wait and find out, because as David Heyman revealed to me production on Fantastic Beasts And Where To Find Them 2 is due to begin in either July or August, 2017, ahead of its release date on November 16, 2018.