When Fantastic Beasts Plans To Release Its Sequels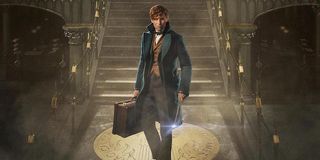 Ever since J.K. Rowling revealed that Fantastic Beasts And Where To Find Them will have four sequels after the first installment is released later this month, moviegoers have been wondering when they will actually be released. And it turns out that they will be coming quite thick and fast, because when I sat down to talk to producer David Heyman at the New York press junket for Fantastic Beasts And Where To Find Them on Monday, he told me that they will be with us every two years.
I asked David Heyman, "Obviously J.K. Rowling revealed last month that there's going to be five films. But Fantastic Beasts wasn't made with that plan. Have there been thoughts about whether a new film will come out every two years?" This led him to respond with:
David Heyman wasn't quite done though. Because as my discussion with the elegant Brit came to an end I asked, "When is production on Fantastic Beasts 2 planned to begin?" To which he revealed, "July next year. July/August next year." All of which means that that we can expect Fantastic Beasts And Where To Find Them 2 to either keep its pre-arranged November 16, 2018 release date or, as a worse case scenario, be held until the summer of 2019, with films following then every two years after accordingly.
Of course, that's only going to happen if people go to see Fantastic Beasts And Where To Find Them at the cinema in just a few weeks time. But considering that the eight Harry Potter films grossed a combined total of $7.723 billion at the box office between 2001 and 2011, it's extremely likely that audiences will be flocking to reconnect with the Wizard World over the next few weeks.
It might not make quite as big a smash at the box office as its predecessor Harry Potter and the Deathly Hallows -- Part 2 did back in 2011, though, because it is introducing us to a whole host of new characters who are spinning off from Harry, Hermione and Ron's antics in the original films. Leading the way is Newt Scamander (Eddie Redmayne), who arrives in 1926 New York with a briefcase full of magical beasts that soon escape and cause a catastrophic chain of events.
For those of you that haven't been keeping up, here's the latest trailer for Fantastic Beasts And Where To Find Them.
Fantastic Beasts And Where To Find Them is finally released on November 18, 2016. Keep glued to CinemaBlend in the build up to its release for further revelations from my fantastic chats with Eddie Redmayne, Katherine Waterston, Dan Fogler, Alison Sudol, Ezra Miller, David Heyman and David Yates. Especially because you know exactly where to find them.
Your Daily Blend of Entertainment News