Which Christmas Movies The Office Christmas Party Cast Watches Every Year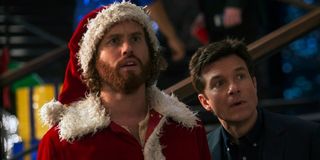 We're now at the time of year where it's socially acceptable to scream, "It's Christmas!!!" in strangers' faces. Of course, people have different rituals that they undergo in order to get into the Christmas spirit. This not only includes attending one's office Christmas party, but also sitting down to watch their favorite festive films too. But what are the go-to Christmas movies for the actual cast of Office Christmas Party? Over the weekend I sat down to ask Jason Bateman, T.J. Miller, Courtney B. Vance and directors Will Speck & Josh Gordon that very question.
Jason Bateman admitted to me that his Christmas movie selection is now dictated by his two young daughters, while at the same time revealing that he's also pined to do a Christmas movie. Jason Bateman explained,
When I quizzed the directing team of Josh Gordon and Will Speck about their favorite Christmas movies, the former took the reigns of the question, revealing that there was a variety from the genre that he is a huge fan of. Josh Gordon remarked,
Meanwhile, T.J. Miller revealed that he planned on spending part of his Christmas with John McClane this year, while Courtney B. Vance returns to one of his most treasured films on an annual basis. The duo answered,
You can check out the full answers from my Office Christmas Party interviews with Jason Bateman, Josh Gordon, T.J. Miller and Courtney B. Vance by clicking play below!
Office Christmas Party will be in cinemas from tomorrow, December 9th.
Your Daily Blend of Entertainment News
Thank you for signing up to CinemaBlend. You will receive a verification email shortly.
There was a problem. Please refresh the page and try again.