The Irishman Wants To Use Rogue One-Type CGI To De-Age Robert De Niro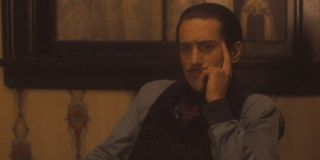 The Irishman became one of the most eagerly anticipated movie projects in development when it was announced that Martin Scorsese would be directing Robert De Niro, Al Pacino and hopefully Joe Pesci in the long mooted crime drama. Based upon Charles Brandt's novel I Heard You Paint Houses, The Irishman tells the story of Frank Sheeran, who on his deathbed claimed to have murdered Jimmy Hoffa. But now producer Gaston Pavlovich has given us another reason to start counting down the months, weeks and days until The Irishman is with us, as he's confirmed that it's going to follow the path recently paved by Rogue One and de-age Robert De Niro.
Gaston Pavlovich made this revelation to me when I sat down with him to chat about Silence, the latest Martin Scorsese film that Pavlovich had a key role in finally bringing to the screen following 25 years in development hell. During my chat, I quizzed Pavlovich about The Irishman, specifically Robert De Niro's past comments about how he'll be made to look younger in the film. This then provoked Pavlovich to add,
But Robert De Niro won't be hogging this technology all for himself. That's because Robert De Niro previously revealed that every other member of _The Irishman's _cast will be made to look younger in the film, too, which means that we are almost certainly going to see 1970s era Al Pacino and Bobby D squaring off with each other.
Just last week, Rogue One: A Star Wars Story proved just how far this technology has come, as it was used to bring Grand Moff Tarkin, as performed by Peter Cushing, back, even though Cushing himself had died in back 1994. Some naysayers have already insisted that it verged on the uncanny valley a little bit too much for their liking, but Martin Scorsese and his special effects team still have quite a few years to perfect the technology before The Irishman is released.
Those of you wanting to see Martin Scorsese's cinematic majesty in all of its glory can satisfy your needs with Silence in the meantime. You can have a gander at the trailer for Silence below.
Silence will be in cinemas starting Wednesday December 23, while The Irishman is currently touted for release towards the end of 2018.
Your Daily Blend of Entertainment News