John Wick Has Another Story Coming In An Unexpected Way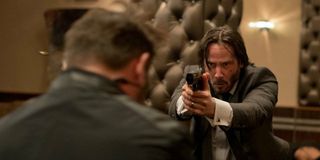 One of the many reasons to look forward to 2017 is the return of Keanu Reeves in John Wick: Chapter Two. The 2014 action thriller hybrid was the shot in the arm the action genre needed, as Reeves' cool, calm and calculated assassin made his way through the enemies that had murdered his dog. But now we have even more reasons to celebrate, because it has been confirmed that Chapter Two will also coincide with the release of a John Wick comic book that will expand the franchise ever further.
Dynamite Entertainment made this announcement to Entertainment Weekly on Wednesday, confirming that they've been working in conjunction with Lionsgate for the comic book. Nick Barucci, the CEO of Dynamite, has been discussing why John Wick was the perfect material for a comic book, praising the "exciting film" for the way that it mixed "martial arts action with snappy dialogue and smart writing."
Barrucci insisted that as he left the cinema following John Wick, he pined for more story regarding the assassin, before clocking that it was "obvious they had the makings of a franchise." Lionsgate clearly agreed because they quickly handed over the rights for the character to Dynamite, allowing them to tell brand new stories with John Wick.
Rather than being strict adaptations of the John Wick canon, Lionsgate and Dynamite have confirmed that they will instead expand the universe. Giovanni Valletta has done a few concept art sketches of JW in action in the comics, which you can check out over at EW. However, we're still waiting for details regarding the creative team for the John Wick comic and when it will actually be released.
Released in 2014, John Wick was a critical darling, going on to score 85% on Rotten Tomatoes, thanks to the way it molded the likes of marital arts, anime, gun fu, Hong Kong action cinema, western and others from the action genre in a distinctive and original fashion, while it was expertly led by a debonair Keanu Reeves. Just take a look at the clip from John Wick to see what it's so ripe for a comic-book adaptation.
Of course, along with the comic book, John Wick: Chapter Two is just on the horizon, too, and the latest trailer suggests that it's going to be a stirring follow-up, especially since it includes a Matrix reunion, with Laurence Fishburne joining Keanu Reeves in the tale.
John Wick: Chapter Two will finally be with us on February 10, 2017.