An All-Female Horror Anthology Film Is Coming To Movie Theaters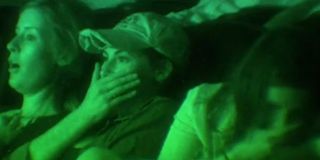 Horror films generally lend themselves to economic storytelling. They're often short, easily digestible movies that don't waste any time with excess or unnecessary plot threads. That makes them completely ideal for the anthology treatment. With that in mind, it now seems that an all-female horror anthology film is coming to theaters, and we couldn't be more excited for what it has in store.
We have officially learned that Magnet Releasing and XYZ are teaming up to bring an all-female horror anthology to theaters next year. Titled XX (as in two X chromosomes), the film will focus on four separate, standalone short stories from four female filmmakers -- Annie Clark, Karyn Kusama, Roxanne Benjamin and Jovanka Vuckovic. The film will make its world premiere at the Sundance Film Festival in January, and it will receive a theatrical release (in addition to a VOD release) the following month on February 17, 2017. 2016 was a phenomenal year for horror, and now it seems that 2017 will start on a strong note as well.
Sundance has established itself a major platform for horror movies over the course of the last few years. Recent female-fronted classics like The Witch and The Eyes of My Mother made their debuts at the Utah-based film festival, and have since gone on to achieve massive critical acclaim. It's obviously still early, but all eyes are on XX to do the same when it finally premieres.
An all-female horror film makes plenty of sense when we consider the longstanding traditions of the genre. Female protagonists have always been the typical focal point of most horror movies, and a film crafted by women from the ground up certainly honors that concept. It also feels like a proper time for this movie to hit theaters when we consider the evolution of the scream queen in recent years. Actresses like Jane Levy (Don't Breathe, Evil Dead) and Teresa Palmer (Lights Out) have taken an archetype typically known for being little more than cannon fodder and made them into strong, independent heroines who can effectively stand up to the evils in their respective films. With women taking total writing and directing control of XX as well, we can likely expect an empowering and exciting horror film that defies typical conventions of the genre.
Anthology horror films have become their own subcategory within the genre over the last few years. Although the method of telling the standalone stories varies from movie to movie, films like Trick r' Treat and the V/H/S franchise have thrived by telling multiple tight, self-contained short stories within a greater overarching narrative. Now it seems that XX is set to add to that bold and innovative tradition.
We will bring you more information related to the upcoming debut of XX as new details become available to us. The film will premiere in theaters and VOD on February 17, 2017. Stay tuned for more details!
Originally from Connecticut, Conner grew up in San Diego and graduated from Chapman University in 2014. He now lives in Los Angeles working in and around the entertainment industry and can mostly be found binging horror movies and chugging coffee.