Watch Samuel L. Jackson Hilariously Attempt To Recall His Craziest Movie Lines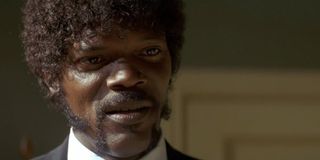 Plenty of actors have the opportunity to say some genuinely iconic lines over the course of their respective careers, but nobody can even come close to Samuel L. Jackson. The guy has become legendary for his ability to spout vulgar catchphrases, and he has an unmatched ability to make even the most simple sentences utterly delightful. The actor recently made an appearance on Jimmy Kimmel Live, and he proved that he has an acute knowledge of his body of work. Check out the video below to see it for yourself:
The fact that Samuel L. Jackson can accurately answer every single one of those lines on Jimmy Kimmel's "Did I Say That?" segment is insanely impressive. The guy currently has 169 screen credits on IMDB, and most of those movies feature at least one line or catchphrase that fans can instantly remember. Kimmel tries to throw many curveballs at the Hollywood icon (particularly by including the words "fuck" or "motherfucker" in each of his options), but Jackson manages to completely discern which lines are his, and which lines are not with incredible ease.
It's kind of insane to think that those are the lines used to possibly trick Samuel L. Jackson, and they highlight how iconic his body of work has become. The actor became a household name in 1994 with his turn as Jules Winnfield in Pulp Fiction (a turn that garnered him his only Oscar nomination to date), and he has been a powerhouse in the filmmaking community ever since. After all, Jackson has established himself as a man who doesn't play minor characters; if he shows up in a movie, you can bet that he's going to steal whatever scene he finds himself in.
Of course, I would just like to take this opportunity to point out my absolute favorite Samuel L. Jackson line of all time. The "Did I Say That" segment features Jackson's "I'm about to open some fucking windows" line from Snakes on a Plane, but it doesn't feature the even more famous line that immediately precedes it. Check it out below:
As long as I live, I will never get tired of that line from Snakes on a Plane. It has become the gold standard of Sam Jackson quotes.
What is your favorite line from a Samuel L. Jackson movie? Let us know what you think in the comments section below so that we can continue to revel in the glory of this Hollywood icon.
Samuel L. Jackson hasn't slowed down as time has gone by, so we have a feeling that he will continue to bring us amazing catchphrases for years to come. Stay tuned for more details!
Originally from Connecticut, Conner grew up in San Diego and graduated from Chapman University in 2014. He now lives in Los Angeles working in and around the entertainment industry and can mostly be found binging horror movies and chugging coffee.
Your Daily Blend of Entertainment News
Thank you for signing up to CinemaBlend. You will receive a verification email shortly.
There was a problem. Please refresh the page and try again.