Samuel L. Jackson May Join Yet Another Stephen King Movie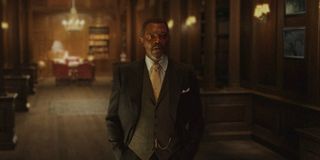 Samuel L. Jackson clearly has a thing for Stephen King adaptations. That's because The Hateful Eight star has lined up his third cinematic role sourced from one of the author's works. He appeared in 1408 in 2007, based on King's short story of the same name, and Cell, adapted from the author's 2006 novel, is set to premiere in the coming months. Jackson has been linked with a leading role in Revival, which was previously released by King back in 2014.
Samuel L. Jackson is reportedly interested in the role of Charles Jacobs, a preacher who starts to experiment in the supernatural using electricity. The catalyst for these experiments is the death of his wife and children in an accident. Because it's Stephen King, things only get more peculiar and morbid from there.
While Charles Jacobs is not the lead character of Revival (that honor belongs to Jamie Morton, who is yet to be cast), he's one of the most intriguing personalities in Stephen King's hugely celebrated oeuvre. According to Entertainment Weekly, Samuel L. Jackson has been holding discussions with writer and director Josh Boone and producer Michael de Luca (Moneyball, Captain Phillips, The Social Network) about joining in the fun on the latest adaptation of one of King's novels.
Josh Boone, who found huge success as a director on 2014's The Fault In Our Stars, which was the follow-up to his debut film, Stuck In Love, was previously attached to oversee Stephen King's The Stand. However, that adaptation is now firmly in limbo, which has provoked Boone to jump into work on Revival.
Currently, Revival isn't attached to any studio. However, since The Fault In Our Stars grossed $307.2 million, and Boone is already attached to direct the X-Men spinoff The New Mutants, we can expect it to find a home rather soon. Especially as the always desirable Samuel L Jackson is now attached to lead the way.
Samuel L Jackson's first Stephen King film was 1408. Released in 2007, and adapted from King's 1999 short story of the same name, 1408 was met with impressive enough reviews and a box office haul of $132 million. Both of which should help Revival's chance of making it to the big screen.
Cell, which once again teams Samuel L. Jackson up with his 1408 co-star John Cusack, revolves around a group of survivors who have to find and stop "the pulse" after a mysterious signal broadcast turns most of the population into mindless vicious animals. It will premiere at Glasgow Film Festival's FrightFest at the end of the month. Fingers crossed that Cusack joins him in Revival too, because the world needs more films with John Cusack.
Your Daily Blend of Entertainment News