Michael Jackson's Chimp, Bubbles, Is Getting His Own Movie Because Of Course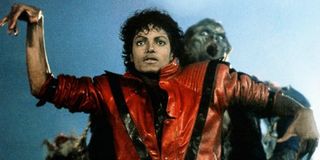 Aladdin's Apu's position as the greatest monkey in cinematic history will soon be under threat. That's because Bubbles, the Black-List topping screenplay from Isaac Adamson that revolves around the life and times of Michael Jackson's former pet/BFF, has finally landed a director in the shape of none-other than Taika Waititi.
Taika Waititi, who is currently working hard to get Thor: Ragnarok ready for its release in November, isn't going it alone on Bubbles, though, as he will be joined by co-director Mark Gustafson on the stop-motion animated feature film. There's a lot of comedic talent involved in Bubbles, too, as it comes from Dan Harmon's Starburns Industries. Starburns drew plenty of plaudits last year for their work on Anomalisa, which was nominated for the Best Animated Film at the Academy Awards. Meanwhile, Mark Gustafson is currently working as co-director with Guillermo del Toro on Pinocchio. Taika Waititi spoke to Deadline about Bubbles, explaining
Because of this ambition, Taika Waititi insisted, "I think animation is the only way to approach a story like this." Waititi also noted that making a film about Michael Jackson's life wasn't a story that he'd feel comfortable telling. Instead, the Kiwi director admitted that Bubbles is "about a chimpanzee's fascinating journey through the complex jungle of human life." Don't expect Bubbles to take any cheap shot or digs at Michael Jackson, too, as Waititi declared himself such a huge fan of the pop star that his main ambition is to "make sure it's respectful of him and his legacy."
Bubbles has certainly lived quite an extravagant life. He had humble beginnings, as he was born in early 1983 in an Austin, Texas, research facility that bred primates for animal testing. It's believed that a 25-year-old Michael Jackson purchased him when he was just 8 months old and subsequently turned his life bananas. Between 1983 and 1988, Bubbles lived at the Jackson family home in Encino, before Michael Jackson moved himself and his pet monkey to the Neverland Ranch.
This is where Bubbles' already rather extravagant life kicked up a few gears, as he slept in a crib in the singer's bedroom, ate candy and watched movies, while there were even reports that he had his own agent and bodyguard. During the Bad World Tour, Bubbles even drank green tea with the Mayor of Osaka.
However, by 2003, Bubbles had become overly aggressive, and the decision was made for the monkey to move him to an animal sanctuary because it was feared that he might attack Jackson's new born son, Prince Michael II. There have been mixed reports about whether Michael Jackson actually ever saw Bubbles again after they separated, so expect their estrangement to be one of the most heart-breaking moments of what's arguably the most bizarre Hollywood film that's currently in development.
Your Daily Blend of Entertainment News