When The Next Alien: Covenant Trailer Will Premiere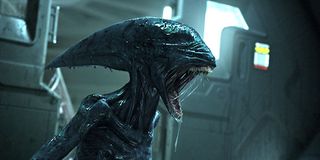 It's impossible not to be just a little bit excited about a new Alien film. Especially when it is being directed by Sir Ridley Scott. The first trailer and the prologue for Alien: Covenant have done a sterling job of amping up the anticipation. Of course, we want more, and with just over two months until the film is finally released, we can expect to see new trailers and clips for Alien: Covenant in the very near future. In fact, it has now been announced that a new full-length trailer for Alien: Covenant will be attached to Logan, and is due to pop up on the internet either just before or just after the first screenings for the blockbuster on Thursday night.
This news comes courtesy of Trailer Track, who also noted that the trailer will be available in both green and red band versions. The last red-band trailer for Alien: Covenant was heavy on the gore and blood, so it's safe to predict that this new version will be similar in content as Fox and the team behind the blockbuster try to get bums on seats ahead of its release.
Alien: Covenant is the third film from the franchise that Sir Ridley Scott has directed. In fact, the English director was the man who kicked it all of with 1979's Alien, which is widely regarded to not just be one of the greatest horror films of all time, but one of the greatest films ever, period. But while Sir Ridley Scott's efforts on Alien can never be diminished, his return to the franchise with Prometheus in 2012 left fans divided.
That's probably why he has made the decision to oversee a sequel to Prometheus in the shape of Alien: Covenant. This time around, the film kicks off with the colony ship entitled Covenant heading to a remote planet at the far end of the galaxy. On their journey, they find what they believe to be an uncharted paradise, but it's actually inhabited by monstrous creatures that set out to kill them, as well as Prometheus' David, who is played by Michael Fassbender.
Those of you who want to take a sneaky peek into what's in store with the film can check out the prologue to Alien: Covenant, which was released last week and gave us a great introduction to the characters who will be involved.
Want a little bit more action and bite? Well, you can also watch the first red-band trailer for Alien: Covenant below, too, which proves that the film is going to be extremely brutal and scary.
We'll get to see just how brutal and scary Alien: Covenant actually is when it's finally released on May 19, while you'll be able to see its latest trailer when Logan hits theaters this coming Friday.
Your Daily Blend of Entertainment News