British Actors Pick The Worst Brit Accent Ever Given By An American Actor, And They're Right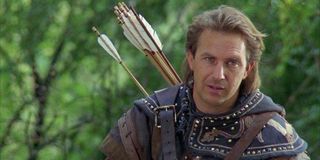 For over 50 years now, Dick Van Dyke's attempt to sound like he's from London in Mary Poppins has been regarded as the quintessential awful Cockney accent. Now it's official, too, because for the first time ever, a group of professional actors from both the U.K. and the U.S. have voted on the worst attempts at their accents from the other, and in the U.K. pool, Dick Van Dyke's drew the harshest score.
This poll was conducted by the language learning app Babbel, via Variety, who asked ex-pat actors from both the U.K. and the U.S. to vote on a five-point scale regarding just how convincing the fake accents were in leading parts. There was just one catch, though, the films had to have grossed over $100 million at the box office.
Unsurprisingly for anyone who has seen Mary Poppins, Dick Van Dyke finished right at the bottom of the pile with a measly 1.6 out of 5. Need a reminder of just how awful Dick Van Dyke's accent in Mary Poppins is? Check out the scene below then, especially since the presence of David Tomlinson, a bona-fide Englishman, makes Van Dyke's voice even more excruciating.
But while Dick Van Dyke's accent in Mary Poppins has been the butt of many a joke for decades now, I have to admit that I feel a little sorry for him that he finished bottom of this list. That's because Kevin Costner's British accent in Robin Hood: Prince Of Thieves miraculously finished above Van Dyke, scoring 2.0 out of 5. The problem is that Kevin Costner doesn't even attempt a British accent in Prince Of Thieves, instead he just speaks in his usual American droll.
Johnny Depp's drunken pirate Jack Sparrow in the Pirates Of The Caribbean franchise scored a barely respectable 3/5, while he was followed up by Angelina Jolie in Maleficent (3.3/5), Natalie Portman in V For Vendetta (3.5/5), and Sean Astin in the Lord Of The Rings franchise (3.8/5). By this point we'd reached the cream of the crop, though, with the top four's accents scoring four or above.
Just missing out on a podium spot was Robert Downey Jr. as Sherlock Holmes, but he should still be more that chuffed with his score of 4.3/5. Renee Zellweger's turn in Bridget Jones' Diary scored 4.5/5 to secure her third spot, while there was a bit of a surprise in the runner-up spot, as Gwyneth Paltrow's performance in Shakespeare In Love amassed a score of 4.7/5.
As you could have probably guessed, the top position was taken up by none other than Meryl Streep for her portrayal of Margaret Thatcher in The Iron Lady. Her accent was deemed so pitch perfect that it scored 4.9/5 on the scale, which just makes me wonder how they took 0.1 off her tally.
Your Daily Blend of Entertainment News