Disney's Mary Poppins Sequel May Have Found The Perfect Star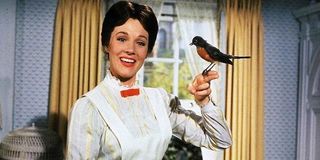 When Disney announced that they were once again dipping into their pool of beloved movies and were giving everyone's favorite nanny, Mary Poppins, another film, it was met with some skepticism. Ever since there's been a swirl of speculation about who may fill Julie Andrews' considerable shoes--no easy feat--and it looks like one of the names that has been in the mix since the very beginning has landed the role and Emily Blunt will play Mary Poppins.
According to Variety, Emily Blunt is in talks to take over the role made legendary by Julie Andrews back in 1964--she's so synonymous with the part that it's damn near impossible to imagine anyone else playing P.L. Travers' iconic child care provider.
When the new movie was announced a few months back, Emily Blunt was rumored to be one of the frontrunners to land the part. In a list of potential actresses put out by gambling sources, she had 5 to 2 odds to play Mary Poppins, second only to Anne Hathaway's chances. So learning that she will likely play the part isn't a huge shock, but apparently she has been at the top of the wish list for a number of key players involved in the project since day one.
Rob Marshall will direct the Mary Poppins sequel, with John DeLuca and Marc Platt set to produce. The three worked with Emily Blunt recently on the big screen adaptation of Into the Woods, and that experience led to them wanting the 32-year-old actress for the role.
There's no concrete deal in place just yet, as there are reportedly some scheduling conflicts that need to be worked around--and she's also pregnant with her second child--but more than anyone else, it just makes sense for Emily Blunt to play Mary Poppins. It keeps the character legit British and without having to rely on a fake accent, she's a fantastic actress and this will give her something that she hasn't done before, and, as we now know, she can certainly handle herself when it comes to the singing.
The Mary Poppins sequel will be set twenty years after the events of the original, and the action takes place in Depression-era London. It also reportedly follows a storylines from one of P.L. Travers' subsequent novels that dealt with the further adventures of Mary Poppins after her time with the Banks family came to a close.
This is just the latest of Disney's endeavors to bring their classic titles new life. Up to this point it's largely been by translating animated features into live-action, but as illustrated by this move, nothing is off-limits moving forward.
Your Daily Blend of Entertainment News