New Power Rangers TV Spot Hints At Rita Repulsa's Ranger Past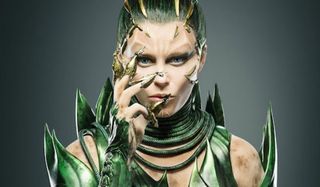 Those of you that grew up in the mid 1990s know just how important the Power Rangers television series was to so many people. Which is why every single detail of the cinematic reboot of the Power Rangers has been so meticulously analyzed by its fans. While there have been some aspects of the upcoming blockbuster that have left fans concerned, the casting of Elizabeth Banks as the film's villain Rita Repulsa has been unanimously approved. The latest TV spot for Power Rangers gives us our best look yet at Banks in the film, and she appears to have deliciously hammed it up as the foe. You can watch it yourself below.
The above TV spot actually teases several revelations that will be of interest to Power Rangers fans. The first is that Rita Repulsa has killed Rangers before, something that she's actually mentioned in other trailers. However, her line of, "I was once just like you. Full of hope," has immediately sparked suggestions that she was actually the former Green Ranger.
Which would make sense, because, first of all, just look at her green suit, which could easily have been fashioned from her previous Power Rangers costume. Fingers crossed there's a montage of her working at a sewing machine getting the stitches and fabric just right for her evil attire. Plus, it has already been confirmed that Rita Repulsa actually has the Green Ranger coin, too.
Of course, for the time being, this is all just speculation that won't be confirmed until Power Rangers is released at the end of next month. But what was arguably even more impressive about the above TV spot was the glimpse that it gave us of Goldar, the loyal warrior of Rita Repulsa that clearly does a whole heap of damage to Angel Grove, the small town that the Power Rangers call home.
It's going to be interesting to see how Power Rangers fares with a modern audience. The trailers and clips for the film have certainly suggested that it will have a much more serious tone than its small-screen predecessor, which might alienate some of the die-hard fans of the original. Much will rely on the camaraderie between the leading quintet, which includes Dacre Montgomery as the Red Ranger, Naomi Scott as the Pink Ranger, RJ Cyler as the Blue Ranger, Becky G as the Yello Ranger, and Ludi Lin as the Black Ranger. You can get a taste of their patter by checking out the trailer for Power Rangers below.
As well as the above, Bryan Cranston and Bill Hader have also signed up to play Zordon and Alpha 5, respectively, while we'll be able to see if the Power Rangers is worth the wait when it's finally released on March 24.
Your Daily Blend of Entertainment News