Mark Ruffalo Told Dan Stevens Beauty And The Beast Would Never Work, Here's Why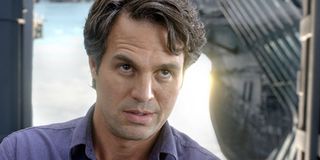 While Dan Stevens takes a titular role in Beauty And The Beast, we don't actually get to see too much of his face in the romantic adaptation. That's because the extensive technology used to turn him into the hideous character makes him unrecognizable. But not everyone was so convinced that the technology was in place to do the film justice. In fact, after Dan Stevens revealed to Mark Ruffalo that he would be starring in Beauty And The Beast, The Avengers actor insisted that the film would be impossible to do.
Mark Ruffalo was so dismissive of Beauty And The Beast because he has used a CGI with a digital face mesh to portray The Hulk in both The Avengers and Avengers: Age Of Ultron, and he'll do so again in Thor: Ragnarok and the upcoming Avengers sequels. Because of these experiences, Mark Ruffalo knows firsthand just how difficult a process it is, and he wasn't optimistic it could be done on such a huge scale. However, Dan Stevens pushed back these concerns, as he insisted that he was always convinced it could be achieved throughout the film's production. That's mostly because if he hadn't been so enthusiastic, then he wouldn't have able to make Beauty And The Beast. Dan Stevens explained:
It says a lot about Dan Stevens' character, and Disney's expansion of the technology, that they were able to do such a good job with the Beast in the film, especially after the former Downtown Abbey actor sat down to chat with both Andy Serkis and Mark Ruffalo. It also says a lot about his chat with both of them that he referred to his discussion with Serkis as "great," while it sounds as though he originally left his chinwag with Ruffalo a little despondent.
However, as Dan Stevens makes clear, he was able to use Mark Ruffalo's dismissive remarks to spur himself, and the film, on. With Beauty And The Beast now on the cusp of release, Stevens admitted to Uproxx that he is very eager to actually hear what Mark Ruffalo has to say on their achievements with the technology. Stevens declared:
Hopefully Mark Ruffalo will duly oblige Dan Stevens' request in the very near future, or he'll take to his Twitter account to let people know his thoughts. Either way, you'll be able to draw your own conclusions when Beauty And The Beast is finally released on March 17th.
Your Daily Blend of Entertainment News