Weekend Box Office: The Boss Baby Opens At Number One, Ghost In The Shell Fails To Impress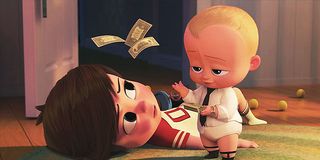 April got off to a sleepy start, kicking off with three new releases that failed to impress.
Number one this weekend went to animated The Boss Baby. With $49 million it barely edged out the Beauty and the Beast remake which banked $47 million on its third weekend out.
Anime-to-live-action remake Ghost in the Shell landed with a thud, earning just $19 million for a third place debut. Combined with the $40 million it has taken in elsewhere in the world, the PG-13 adaptation is in a tough spot against its $110 million production budget and undisclosed, but certainly large, internationally marketing costs.
The Zookeeper's Wife opened at tenth place with just $3 million, but given that it started in just 540 locations, it banked $6,200 per location, higher than the $5,500 per theater total for Ghost in the Shell.
The end of the first quarter brought a new record for the box office. Domestic movies banked nearly $3 billion in the first three months of the year, topping last year's $2.88 billion. First quarter totals have been climbing since 2013, helped by the influx of big budget movies into March release dates as animated and comic book movie sequels have begun sucking all the cash out of the summer season.
For the full weekend top ten, check out the chart below:
Your Daily Blend of Entertainment News
Your Daily Blend of Entertainment News
Thank you for signing up to CinemaBlend. You will receive a verification email shortly.
There was a problem. Please refresh the page and try again.