What Oliver Stone Taught Alec Baldwin About Making Movies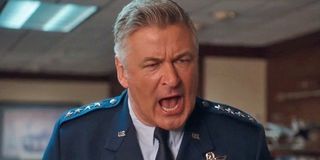 Filmmaking can make people do truly outrageous and terrible things, especially when you have both written and directed the piece, and you're looking to galvanize the desired performance from your actors. It transpires that Oliver Stone is one such filmmaker who's willing to go to any length to get the cast and crew to do what he wants, something that Alec Baldwin saw first hand when the pair worked together on 1988's Talk Radio. And while the entire experience sounds like it was particularly harrowing, Baldwin also noted his begrudging respect for Stone's commitment to the cinematic cause. Baldwin recalled:
There are two ways to look at Alec Baldwin's above comments, which come courtesy of his recent book Nevertheless. Clearly if any boss or employee is forcing his subordinates to booze in order for them to deal with how they're being treated then it is inexcusable. I can only imagine that drinking made the entire situation umpteen times more painful, though, because dealing with Oliver Stone on a hangover must have been hell on Earth. But then there will be the cinephiles that insist that a filmmaker is well within their rights to do whatever they want to the cast and crew so that their vision can be plastered up on screen, a point of view that Baldwin suggests he is actually sympathetic to. Not to the extent that he ever actually appeared in another Stone film, though.
Released back in 1988 to impressive reviews, Talk Radio is one of Oliver Stone's lesser known films. It revolved around the ascent of radio-host Barry Champlain (Eric Bogosian), who himself is based on Alan Berg, a Jewish radio host that was shot and killed in his own driveway by white supremacists. Alec Baldwin's character in the film is actually similar to that of his work in Glengarry Glen Ross, and you can get a snippet of his performance in the film by checking out the trailer for Talk Radio below.
This isn't the first time that Alec Baldwin has courted controversy with his new book Nevertheless over the last few days, as he's not only elaborated on his disdain for Harrison Ford, but he's also currently embroiled in a dispute with producer Dana Brunetti over whether or not he actually knew the age of Nikki Reed in Mini's First Time, too.
Your Daily Blend of Entertainment News
Your Daily Blend of Entertainment News
Thank you for signing up to CinemaBlend. You will receive a verification email shortly.
There was a problem. Please refresh the page and try again.