Alec Baldwin Is Feuding With Hollywood Producers Over An Underage Costar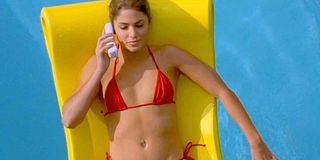 Alec Baldwin has a new book out, and like most celebrities who publish books, his title Nevertheless is filled with juicy stories and opinions from the SNL actor. This week, news came out of Nevertheless that Alec Baldwin didn't know Nikki Reed was underage when she played his love interest in the 2006 film Mini's First Time. However, now producers Dana Brunetti and Evan Astrowsky are coming out of the woodworks to say that Alec Baldwin's claims are false. The producers are going pretty hard with their claims, too.
In a stream of 10 tweets, Dana Brunetti said that Alec Baldwin was very well aware of the score on Mini's First Time, a movie that filmed when Nikki Reed was only 16. He noted that at the time of filming Alec Baldwin actually approved the actress he was going to work with and ended up choosing Nikki Reed because she was represented by CAA, the agency that also represented Baldwin. It's less that Brunetti takes issue with Alec Baldwin misremembering he knew Nikki Reed's age at the time and more about how he went on and on in Nevertheless about how he thought it was inappropriate and yelled at producers.
Evan Astrowsky also says that Alec Baldwin is way off of the mark with his comments, noting to THR that he really has no idea what he is talking about.
Of course, Alec Baldwin is happy to double down and go harder. He's already feuded back and forth with Dana Brunetti on social media, ranting about how certain contracts were supposed to have been signed and taking shots at the producer's career with comments like:
Both the producer and the actor have continued to take shots at one another, and there may not be a resolution anytime soon.
What's weirdest about the Nevertheless comments is that they seemingly come out of nowhere. No one was weirded out about Alec Baldwin filming Mini's First Time, except perhaps for Baldwin himself. That movie specifically has no nudity because the actress was underage. It was meant to tell a story that was outside-the-box. It's very strange that he is bringing it up now, and even stranger if the producer's comments end up being more accurate than what is in the book. On Brunetti's side, he says he talked to three other people involved with Mini's First Time and they also all say Alec Baldwin was aware of the score when the movie was filmed. It's very much a he said, he said sort-of situation, and we'll have to wait and see how it plays out.
Reality TV fan with a pinch of Disney fairy dust thrown in. Theme park junkie. If you've created a rom-com I've probably watched it.
Your Daily Blend of Entertainment News
Thank you for signing up to CinemaBlend. You will receive a verification email shortly.
There was a problem. Please refresh the page and try again.