Fast And The Furious In Space? Here's What The Main Screenwriter Thinks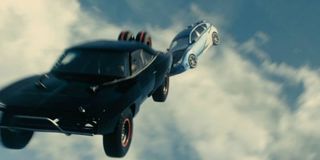 After Furious 7's spelling-binding and truly astounding action set-pieces, fans were left wondering how on Earth the franchise could go top these sequences? At the moment, the plan is still to keep the Fast And The Furious films within the planet's atmosphere, as screenwriter Chris Morgan recently confessed that even they have their limits. When quizzed about the potential scenarios we might see in The Fate Of The Furious and its inevitable sequels, Chris Morgan declared:
Chris Morgan made this revelation to me when I sat down to talk to the screenwriter about the impending release of The Fate Of The Furious. As you can imagine, I was deeply devastated to learn that the Fast And The Furious team had already disregarded the idea of a film set in space, and I immediately made my thoughts known by imploring Chris Morgan to try a "figure that out." This then led the writer of the past six Fast And The Furious films to respond with:
I was immediately enthused by Chris Morgan's suggestion, telling him, "It writes itself," to which he responded, "It actually kind of does." I'm not exactly sure how these things work, but I'm pretty certain I should at least have a story-by credit on the soon-to-be-announced Fast Space Nine: Dom Gets Riddickulous.
There's still every chance that Chris Morgan and the Fast And The Furious team might figure out a way to get Dom, Hobbs, Letty, Deckard, Roman, Tej and Ramsay up into space, though. That's because, during our discussion, Chris Morgan also broke down for me how they set out to eclipse the action that has come before. He explained:
You can actually take an exclusive look below at one of The Fate Of The Furious' scenes, which was given to CinemaBlend by Universal to mark the film's impending release.
You'll be able to see much more that that when The Fate Of The Furious is released into cinemas on April 14.
Your Daily Blend of Entertainment News
Thank you for signing up to CinemaBlend. You will receive a verification email shortly.
There was a problem. Please refresh the page and try again.