Could Man Of Steel 2 Have A Major Role For The Rock?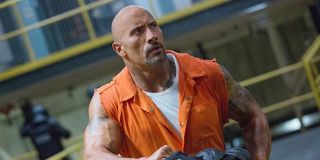 Black Adam may be one of Shazam's primary enemies, but where the DC Extended Universe is concerned, so far his popularity has eclipsed The World's Mightiest Mortal's. From Dwayne "The Rock" Johnson being cast as Black Adam in 2014 to the announcement from last January that the Kahndaqian powerhouse would receive his own movie, it feels like there's been more progress with bringing this character to the big screen than the hero he frequently fights. Now there's word that the DCEU's Black Adam may also leave a mark in Superman's corner of the world by being the main villain in Man of Steel 2.
A new rumor claims that Warner Bros had been wanting Black Adam to make at least a brief appearance in Man of Steel 2, but now the plan is for the anti-hero to clash with Kal-El of Krypton in his next solo movie. Supposedly this is because the studio wanted a bigger project for Dwayne Johnson to play the character after not feeling "confident" in early Shazam scripts. The Reddit post where this information came from also claims that the Shazam movie has been scrapped (although Billy Batson will still probably show up in another movie), as well as Matthew Vaughn is still in talks for the Man of Steel 2 directing gig, though Warner Bros is speaking with other candidates.
Before going any further, it's important to take the content from the previous paragraph with a grain of salt. I would especially look at that portion about the Shazam movie with major skepticism. After all, it was reported in February that Lights Out director David F. Sandberg was in talks to helm Shazam. Why would the movie suddenly be scrapped almost two full months later, especially since it was one of the earliest DCEU projects announced? Black Adam being the main villain in a Superman movie is also questionable since the Kryptonian hero has a decently-sized rogues gallery to pull from, which includes Brainiac, Metal, Parasite, Bizarro and more.
All this being said, Black Adam showing up in Man of Steel 2 is actually plausible. For two years, Dwayne Johnson has been talking about how his Black Adam will eventually fight Superman, although it's never been specified where that would take place. Those two have duked it out in the comics plenty of times, so there would be precedence for them clashing in a movie, even if it was brief. Then last December, Johnson posted a photo of him with Henry Cavill, teasing that these two might be doing something together. So even if this information about Black Adam being the primary antagonist in Man of Steel 2 isn't true, don't be surprised if he does go mano a mano with Superman at some point or merely cameos during the tale.
It's still unclear when the DCEU's Black Adam will actually debut, but you can see Superman return to life when Justice League is released on November 17.
Connoisseur of Marvel, DC, Star Wars, John Wick, MonsterVerse and Doctor Who lore. He's aware he looks like Harry Potter and Clark Kent.
Your Daily Blend of Entertainment News
Thank you for signing up to CinemaBlend. You will receive a verification email shortly.
There was a problem. Please refresh the page and try again.