Pretty Woman Almost Had A Very Different Ending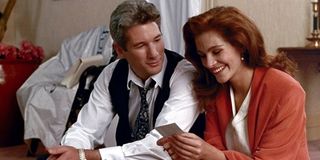 We all know Pretty Woman as the feel-good romantic comedy that saw Richard Gere and Julia Roberts fall in love and warm our hearts. But it was almost very different. In fact, the early drafts for Pretty Woman featured a dark and wary look at prostitution and sex in Los Angeles, while numerous actresses auditioned for the leading role before Roberts was cast. Diane Lane came close to starring as Vivian Ward, and she's now admitted that when she was in line for the film, it was for a completely different character, while Pretty Woman itself had a much darker ending, too. Diane Lane recalled:
Even though she got as far as trying on costumes as the character, Diane Lane ultimately had to pull out of production because of a scheduling conflict. At this point, those in control of Pretty Woman decided to take it in a different direction, which Diane Lane, who went on to appear in Vital Signs instead, described on Watch What Happens Live With Andy Cohen as it being "Disney-fied."
But what did Pretty Woman almost entail? Well, the character of Vivian was originally intended to be a drug addict, and part of the deal that Richard Gere's Edward figured out with Vivian was for her to stay off cocaine for a week. Clearly this didn't quite work out for Vivian, as she ended up being kicked out of Edward's car, while the first ever version of the script ended with Vivian and Kit (Laura San Giacomo) boarding a bus and heading to Disneyland. There were even scenes of Vivian being confronted by drug dealers, and Edward then coming to her rescue.
However, the decision was soon made to make Vivian a more sympathetic character, and in the end it took the shape of a romantic-comedy with a fairy-tale tinge. This is no more apparent than in Pretty Woman's ending, where Richard decides to become a modern version of the knight on a white horse for Vivian, and arrives at her apartment. The rest, as they say, is movie history, and you can relive the scene in its beauty below.
That's a bit more uplifting than watching Julia Roberts getting kicked out a car. And since Pretty Woman went on to gross $463.4 million at the box office, earned Julia Roberts an Academy Award nomination, turned her into a star and helped rejuvenate the romantic comedy genre, it's safe to say that it was ultimately the correct decision, too.
Your Daily Blend of Entertainment News
Thank you for signing up to CinemaBlend. You will receive a verification email shortly.
There was a problem. Please refresh the page and try again.