Why King Arthur Bombed, Even Though It's Really Fun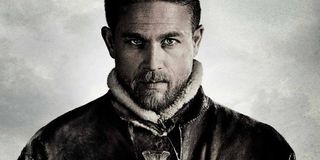 When we look back on the summer of 2017, one of the most interesting topics of conversation will take place when experts try to figure out what went wrong with King Arthur: Legend of the Sword. The Guy Ritchie-directed, Charlie Hunnam-fronted Arthurian tale is a relatively fun action romp, but the film ultimately went on to become the summer's first bomb when it unceremoniously debuted over the weekend. Opening to a mere $15 million, the King Arthur origin story is a bonafide flop.
Despite the fact that King Arthur: Legend of the Sword is a better movie than its financial performance would suggest, a few key indicators tipped us off that the movie would ultimately bomb as badly as it has. We've gone through the details and picked out a list of reasons why (for all of its merit) Guy Ritchie's King Arthur movie was pretty much destined to fall flat. First and foremost, let's kick off this discussion by talking about its disastrous release date.
The Release Date Is Really Difficult
It's hard to find a summer weekend that isn't competitive, but opening one week after Guardians of the Galaxy Vol. 2 pretty much guaranteed that King Arthur: Legend of the Sword would experience an underwhelming premiere. Audiences are still reeling from the latest Marvel movie, and that enthusiasm hasn't died down nearly enough to get fans ready for the origin story of a brand new potential franchise. Couple that with the fact that Ridley Scott's Alien: Covenant is set to debut the following week, and Legend of the Sword ultimately found itself cannibalized by two beloved franchises. Given the built-in fanbases for both of those franchises, Arthur never stood a chance.
The Film Was Poorly Marketed
Building off of that idea, for all of King Arthur's strengths as a film, that doesn't change the fact that it was very poorly marketed by comparison to movies like Guardians of the Galaxy Vol. 2 and Alien: Covenant. The trailers were incredibly inconsistent, never really letting audiences know if they were in for a light-hearted action romp or a dark and gritty reboot of a violent fantasy tale. Fans didn't know what type of movie to expect, and we have little doubt that Legend of the Sword's inability to properly sell its story, characters and tone ultimately turned many potential viewers off from the film as a whole.
The Cast Isn't A Huge Draw
Don't get me wrong; there is clearly no shortage of talent in King Arthur: Legend of the Sword's cast. From top to bottom, the film is packed with consistently reliable character actors who have lengthy resumes of stellar work. Having said that, it's also worth noting that the film is somewhat lacking in terms of sheer star power. Unlike Guy Ritchie's Sherlock Holmes movies -- which, in hindsight, very obviously benefited from Robert Downey Jr.'s immense charm -- Legend of the Sword is populated almost entirely by character actors like Eric Bana, Jude Law and Aidan Gillen who aren't necessarily major draws for mainstream audiences.
Not Every Story Has Franchise Potential
Finally, and perhaps most importantly, one of King Arthur's biggest drawbacks is the fact that it was clearly designed with a franchise in mind. This is no secret, as the folks behind the series made it clear that their original intention with King Arthur was to lay the groundwork for other characters like Lancelot and Merlin to eventually take center stage in their own stories. This has become a fairly common strategy among studios looking to start new franchises, but it further highlights the point that King Arthur might not fit the cinematic universe treatment. The film should've been a solid standalone movie before the idea of a sequel was even considered.
That's our take, but what's yours? Give us your thoughts on King Arthur: Legend of the Sword in the comments below!
Originally from Connecticut, Conner grew up in San Diego and graduated from Chapman University in 2014. He now lives in Los Angeles working in and around the entertainment industry and can mostly be found binging horror movies and chugging coffee.
Your Daily Blend of Entertainment News
Thank you for signing up to CinemaBlend. You will receive a verification email shortly.
There was a problem. Please refresh the page and try again.