Does Tom Cruise Have A Secret Role In The Mummy?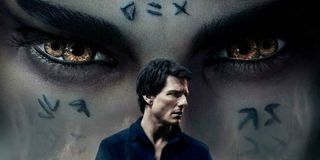 There's always a bit more than meets the eye when it comes to a blockbuster franchise. Iron Man culminated with the reveal of a plan for a greater Marvel Cinematic Universe, and the DCEU has continuously teased the dark and sinister forces of Apokolips showing up during the events of Justice League. Even a movie seemingly as small as Split turned out to be a backdoor sequel for M. Night Shyamalan's Unbreakable. In the sprawling landscape of blockbuster franchises, arguably no other burgeoning property feels more secretive than Universal's Dark Universe -- which will kick off June 9 when The Mummy debuts.
Of all the secrets teased by the upcoming release of Alex Kurtzman's The Mummy, arguably none has us more perplexed than the mystery of Tom Cruise's Nick Morton. He's obviously the star of the show and the hero of the story, but we're starting to think that some serious secrets are lurking beneath his identity. Because you don't cast Tom Cruise in a Monster Universe and ask him to only play "Nick Morton." With that in mind, we have gone through the details and pulled out all of the possible directions that Mr. Morton may go when the film finally debuts. There are many possible secret identities to get to, so let's get started with everyone's favorite monster hunter.
Van Helsing
With so many monsters set to join the Dark Universe within the next few years, it would make perfect sense for Tom Cruise's Nick Morton to actually be the ultimate monster hunter. There have been rumblings of a Van Helsing reboot for years (to serve as a clean slate after the disappointing Hugh Jackman-fronted film from 2004) and Tom Cruise seems like a reliable choice to step into the role. Morton has generally been described as a soldier of fortune character in early glimpses at The Mummy, and his introduction to Dr. Jekyll and The Prodigium (a S.H.I.E.L.D-esque organization tasked with handling monsters) could allow him to take up the Van Helsing mantle by the end of the film.
Allan Quatermain
If Tom Cruise isn't portraying the new version of Van Helsing, then another classic (and highly possible) option is that he will be portraying a modernized version of Allan Quatermain. An expert marksman and iconic adventurer, Quatermain has a long history in the annals of pop culture, and countless versions of the character have appeared in numerous forms of media. The character's most famous film appearance to date (sadly) came in 2003 when Sean Connery took on the role in The League of Extraordinary Gentlemen, so bringing Cruise in for an entirely new version of the public domain hero would make perfect sense. In a universe populated by gods and monsters, a badass adventurer would help ground the proceedings.
The Mummy
Until recently, we had become somewhat accustomed to the likelihood that Sofia Boutella's Princess Ahmanet is the titular monster in The Mummy. After all, she is the one covered in rags in the film. That said, recent trailers have suggested that Nick Morton may actually acquire powers of his own during the events of the upcoming movie, which leads us to believe that Tom Cruise's character could be the mummy who carries this franchise forward into the future. This possibility is compounded by the fact the trailers seem to show Nick Morton actually dying in the film's plane crash sequence -- lending further credence to the idea that he is a reanimated corpse with powers of his own.
The Wolf Man
Building off of that last point, we cannot rule out the possibility that Tom Cruise's Nick Morton is another classic Universal monster masquerading as an average character. Specifically, we think it's entirely possible that Mr. Morton will turn out to be none other than The Wolf Man. His character appears to have larger than life abilities that defy the physical limitations of an average human being, and we already know that a new silver screen version of the furry icon is on the way. With no actor confirmed for the Wolf Man role, it would make quite a bit of sense of Cruise to end up taking on the part when all is said and done. Let's wait and see what a full moon brings.
This poll is no longer available.
Originally from Connecticut, Conner grew up in San Diego and graduated from Chapman University in 2014. He now lives in Los Angeles working in and around the entertainment industry and can mostly be found binging horror movies and chugging coffee.
Your Daily Blend of Entertainment News
Thank you for signing up to CinemaBlend. You will receive a verification email shortly.
There was a problem. Please refresh the page and try again.