Why The Universal Monsters Franchise May Be In Legal Trouble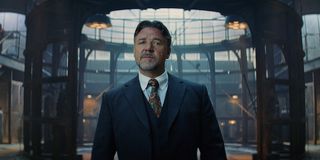 Universal has been working on its cinematic universe of classic Hollywood monsters for a few years now, but last the studio announced that this franchise would be called The Dark Universe. The name fits with the overall feel that The Mummy and its fellow entries are going for: a world populated with creatures, both natural and manmade, that hail from the darkest corners. However, now the franchise may face legal trouble because Warner Bros has its own Dark Universe cinematic project in the works.
One of the many movies currently in development for the DC Extended Universe is Dark Universe, which will feature the Justice League Dark team. DC also reportedly has a series of comic books coming out under the Dark Universe banner. Because of that, THR has heard from a studio source that Warner Bros is "mulling" legal action because Universal decided to call its franchise the Dark Universe, but no complicated paperwork has been filed yet.
Dark Universe has been the working title for the Justice League Dark movie since early 2013, when Guillermo del Toro was still attached to direct. Even with all of the creative shakeups, Warner Bros has still been identifying it as such, so learning that Universal decided to call its franchise the Dark Universe was certainly surprising. While Warner Bros is certainly entitled to take legal action against Universal, this might be a blessing in disguise. For a superhero movie, Dark Universe doesn't have a lot of pizazz, but if it's called Justice League Dark, that adds brand recognition for the moviegoers who don't read the comics. Of course, given that the Justice League Dark consists of supernatural heroes like John Constantine, Zatanna and Swamp Thing, their horror-infused adventure will be remarkably different from the one that Batman, Wonder Woman and the other main DCEU heroes are going on later this year.
As for Universal's Dark Universe, that will kick off in a few weeks with The Mummy, which will not only see Tom Cruise's Nick Morton facing off against Sofia Boutella as the eponymous antagonist, but also introduce Prodigium, the organization that studies, tracks and, if necessary, destroys these monsters, which is led by Russell Crowe's Dr. Henry Jekyll. The next chapter of the Dark Universe, Bride of Frankenstein, will come out on February 14, 2019, and while no other movies in the franchise have been assigned release dates yet, other stories in the works include The Wolfman, The Invisible Man, Van Helsing and The Creature from the Black Lagoon.
The Mummy will be released in theaters on June 9, and if there's more news on the potential legal trouble between Universal and Warner Bros over anything Dark Universe related, we'll be sure to let you know.
Connoisseur of Marvel, DC, Star Wars, John Wick, MonsterVerse and Doctor Who lore. He's aware he looks like Harry Potter and Clark Kent.
Your Daily Blend of Entertainment News
Thank you for signing up to CinemaBlend. You will receive a verification email shortly.
There was a problem. Please refresh the page and try again.