How Colin Trevorrow Feels About Making Star Wars 9 Without Carrie Fisher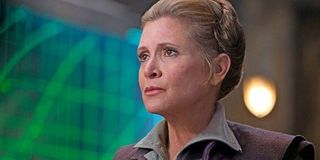 Carrie Fisher's death in December was a hammer blow to Star Wars fans across the world. The release of Star Wars: The Last Jedi later this year will present fans with the perfect opportunity to say goodbye to both Carrie Fisher as an actress, and to the character of Princess Leia, as well. Since Carrie Fisher shot all of her scenes for The Last Jedi before her death, writer and director Rian Johnson will hopefully have the chance to try and orchestrate a fitting farewell. Colin Trevorrow, the writer and director of Star Wars 9, will have a much harder task trying to forge a Star Wars film with the spectre of Carrie Fisher hanging above it. However, The Book Of Henry director has insisted that it will be done with a reverence that is befitting of the Goddess that was Carrie Fisher, telling us in a recent chat:
Colin Trevorrow made these remarks to me regarding Carrie Fisher when I sat down to talk to the filmmaker about his latest directorial outing, The Book Of Henry. During our chat, the topic of Star Wars 9 arose, which is when I decided to quiz him about setting out to work on the film without Carrie Fisher. At first I was interested to see just how much of the script he'd written needed to be altered in the wake of the tragedy. Colin Trevorrow admitted that it was hard to "identify a percentage," before then going on to provide the above quote, and admitting that he never had the honor of meeting the actress before she passed.
What's most interesting about Colin Trevorrow's remarks, though, is his insistence that there are "only certain things" that he is "willing to do" with the character in Star Wars 9. This suggests that he'll be looking to try and incorporate Princess Leia into the film in some fashion, but that certainly won't involve using CGI to regenerate her likeness on the big screen. This is something that was used in Rogue One: A Star Wars Story for both Peter Cushing and Carrie Fisher, but, when it comes to Princess Leia, Lucasfilm president Kathleen Kennedy and Disney boss Bob Iger have already ruled that out option for either Star Wars: The Last Jedi or Star Wars 9. Instead, Colin Trevorrow wants it to be handled in a respectful and touching manner, which we can only be grateful for.
We'll see what he can come up with when Star Wars 9 is eventually released on May 24, 2019. Before then we have Star Wars: The Last Jedi on December 15 of this year. Those of you that want a reminder of Colin Trevorrow's talents behind the camera can satisfy that desire when The Book Of Henry is released on June 16.
Your Daily Blend of Entertainment News
Thank you for signing up to CinemaBlend. You will receive a verification email shortly.
There was a problem. Please refresh the page and try again.