Why LeFou's Character Was Changed In Beauty and The Beast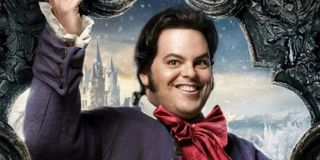 Adapting an animated movie into live-action may seem simple enough, the work has already been done once, but sometimes what works in animation simply doesn't work in live-action. Such was the case with the character of Le Fou in the recent live-action adaptation of Disney's Beauty and the Beast. The character went through some significant changes between the two versions. The catalyst of these changes, as it turns out, was simply the fact that having Le Fou play the same role he did in the animated version, that of the target of Gaston's physical abuse, simply wouldn't make sense in a live-action film. According to director Bill Condon...
While Beauty and the Beast was a remarkably faithful adaptation when you compare it to its animated predecessor, they did change a number of things. One of the characters who went through the biggest change was Josh Gad's version of Le Fou who became a much more complete character. As director Bill Condon explains in the special features attached to the brand new Blu-Ray release, those changes simply came because they didn't think the more slapstick aspect of Le Fou's character in the original version would work. From there, however, things expanded a great deal. It was almost certainly the correct move. While the new Beauty and the Beast is still a fantasy, it also attempts to portray real characters with real motivations and treating Le Fou more like an animated character would have been counter to that idea.
Josh Gad also wanted to get away from the character's original design. For him, eliminating the more "cartoonish" aspects of Le Fou meant considering what needed to be added to make the character seem more real. This led him to focus more on the relationship between Le Fou and Gaston, how that relationship had evolved previously, and how it would change over the course of the movie.
These changes certainly worked. Le Fou made the shift from cartoon sidekick to one of the more interesting characters in the film as we watched him transition from Gaston's friend to a man who began to wonder if his friend was as great as he thought. Watching Le Fou realize that his friend is the real monster is one of the more satisfying character arcs in the movie. Beauty and the Beast is now available on Blu-Ray and via Digital HD services.
CinemaBlend's resident theme park junkie and amateur Disney historian. Armchair Imagineer. Epcot Stan. Future Club 33 Member.
Your Daily Blend of Entertainment News
Thank you for signing up to CinemaBlend. You will receive a verification email shortly.
There was a problem. Please refresh the page and try again.