Josh Gad Can't Stop, Won't Stop Trolling DC Movie Fans About The Penguin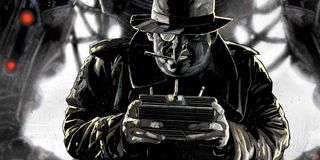 With the release of Wonder Woman (and its near-universal critical acclaim) the DCEU looks to be starting to find its footing. Moving forward, one of the most important (not to mention highly anticipated) films on the DC slate is Matt Reeves' upcoming Batman movie. We still know very little about the exact plot or the villains who will appear in the project, but Murder on the Orient Express' Josh Gad has consistently teased audiences with the possibility that he may portray The Penguin. Now the actor has done it again, as he has just posted another picture that has us seriously hoping that he may soon don the top hat and monocle for real.
Your eyes do not deceive you. That is Josh Gad standing alongside DC icon Geoff Johns and producer Jon Berg in (what appears to be) the DC offices. In his hands, Gad holds an issue of Batman Adventures with Penguin on the cover. Any one of these elements would be enough to get us suspicious, but this picture is a cornucopia of DC goodness. After all of this speculation, could Gad actually play Penguin after all?
That said, don't get too excited just yet. We need to mention that Josh Gad's picture does not necessarily confirm anything. The fact that he is hanging out with DC gurus like Jon Berg and Geoff Johns certainly seems promising, but Gad has also taken the time to downplay the credibility of this rumor in recent weeks as more and more DC fans have latched onto the possibility. Moreover, another recent rumor related to the film has suggested that the solo Batman movie will use Joker, Deathstroke, and Scarecrow as its central antagonists, with no mention of Penguin anywhere. With so much information to work with and so little confirmation for all of these rumors, it's really anyone's guess as to how this will all pan out in the end.
Regardless of whether or not this will actually happen, it is hard to deny that Josh Gad would be perfect for the role of Oswald Cobblepot. Aside from having a physicality and appearance that makes him a shoe-in for the role (with some added prosthetics and make-up thrown in for good measure), he possesses a fantastic sense of theatricality that would easily lend itself to The Penguin's colorful (yet endlessly) sinister personality. It is a stark contrast to the brooding machismo of Ben Affleck's Batman, and the dynamic could be genuinely fascinating to watch on screen.
We have no idea if Josh Gad will play Penguin yet, but the possibility of such a fantastic casting decision will continue to fascinate us until it is confirmed or denied. Batman will make his next appearance in the silver screen DC universe when Justice League hits theaters on November 17, 2017. Here's everything that we currently know about The Dark Knight's upcoming solo adventure.
Originally from Connecticut, Conner grew up in San Diego and graduated from Chapman University in 2014. He now lives in Los Angeles working in and around the entertainment industry and can mostly be found binging horror movies and chugging coffee.
Your Daily Blend of Entertainment News
Thank you for signing up to CinemaBlend. You will receive a verification email shortly.
There was a problem. Please refresh the page and try again.