The Cool X-Men Characters Who Might Show Up In Dark Phoenix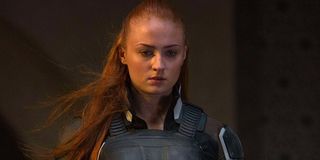 X-Men: Dark Phoenix, the eighth installment of the main X-Men series and 13th in the overall franchise, sounds like it could potentially be the biggest X-Men movie yet. Last week, it was rumored that aliens might appear, which would be appropriate given the extraterrestrial presence in the original Dark Phoenix Saga. Then earlier this week, along with the confirmation that Simon Kinberg will direct X-Men: Dark Phoenix, it was reported that Jessica Chastain was in talks to join the movie as Lilandra, Empress of the Shi'ar Empire. Now some casting information has come out that could potentially mean some intriguing fresh faces being brought in.
The Hashtag Show obtained supposed character descriptions for X-Men: Dark Phoenix, and while none of the characters are specifically identified, there's enough information for the outlet to make educated guesses. Most of these descriptions appear to be for new characters, a;though the inclusion of "Marie" seems to further indicate that Dark Phoenix will include a younger Rogue. However, there are three characters in particular who sound like they could be interesting additions to the X-Men cinematic universe.
First up is "Hiroshi," a mid-20s "punk kid" from Tokyo who can "command the attention of a room." He is suspected to be Shiro Yoshida, a.k.a. Gunfire, who was introduced in 1970 and is able to absorb solar radiation and use it to fly or shoot fire blasts. Sunfire has been an on-and-off X-Men member for decades, so he would be a worthy recruit for the movie team.
Next we have "Brittany," a young girl somewhere between 15-17 who is "very attractive and charismatic," but also has a fiery personality and is a born entertainer. This might be Alison Blaire, a.k.a. Dazzler, who earned her nickname from being able to turn sound into various kinds of light. It's worth noting that Dazzler was supposed to cameo on an album cover in X-Men: Apocalypse, but that scene was cut. Assuming that scene is no longer canon, it would be easy enough to include her in X-Men: Dark Phoenix without worrying about the age she was originally supposed to be in 1983.
There are many other character descriptions included, but the last one of particular interest is for "Jack," a British man in his late 40s or early 50s who is "handsome, self assured and never shows fear. He is suspected to be Jason Wyndgarde, a.k.a. Mastermind, who used his illusion powers to disguise himself as a distinguished man and manipulate Jean Grey in The Dark Phoenix Saga. Jason was also serving in the Hellfire Club during this time, an organization last seen in X-Men: First Class, and another character description, "Redmond," potentially could be an alias for fellow Club member Harry Leland.
Of course, this is all just speculation for now, and some of the other guesses that Hashtag Show provided sound more farfetched. For instance, they think that "Lucca" might be Sauron, the humanoid pterodactyl who lives in the Savage Land. The Savage Land might make a great setting for another X-Men movie, but it's hard to imagine that place, let alone a dinosaur man, being thrown into a movie that's already featuring the Phoenix and possibly aliens, too. Regardless, if any of these characters are confirmed for X-Men: Dark Phoenix, we'll be sure to let you know.
X-Men: Dark Phoenix hits theaters on November 2, 2018.
Connoisseur of Marvel, DC, Star Wars, John Wick, MonsterVerse and Doctor Who lore. He's aware he looks like Harry Potter and Clark Kent.
Your Daily Blend of Entertainment News
Thank you for signing up to CinemaBlend. You will receive a verification email shortly.
There was a problem. Please refresh the page and try again.