Two Major X-Men Characters Who Will Likely Be In The Dark Phoenix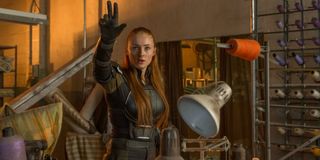 The future of the X-Men franchise has taken shape over the last few months, as it was recently confirmed that an adaptation of The Dark Phoenix Saga would be heading to the big screen next, which would see Sophie Turner reprise her role as Jean Grey in the main role. It's looking increasingly likely that Turner will be joined by Michael Fassbender's Magneto and Jennifer Lawrence's Mystique in the blockbuster, too. That's according to recent comments from producer Hutch Parker, who, after recently being asked by CinemaBlend whether the two actors would feature in Dark Phoenix, teased:
Hutch Parker, who has previously produced The Wolverine, X-Men: Days Of Future Past, X-Men: Apocalypse, and Logan, and will do so again on X-Men: Dark Phoenix, made this admission to me when I spoke to him over the phone on Thursday. Having recently heard rumors that Michael Fassbender would be appearing in The Dark Phoenix I decided to ask for confirmation, as well as inquiring as to whether Fassbender's return had convinced Lawrence to do so, too. But while Parker refused to 100% confirm that the duo would be involved, he insinuated that it would almost certainly be the case.
I didn't stop there, though, because I also wanted to know whether or not Rogue would feature, especially because the character plays such an integral role in the tale.
Hutch Parker again didn't confirm that Rogue would definitely be involved in The Dark Phoenix, but his comments make it sound as though it will more than likely happen, especially considering how much more "expansive" the story is to that of Logan. Hutch Parker continued,
We'll undoubtedly learn who is actually involved in Dark Phoenix in the next few weeks and months, including whether Simon Kinberg is directing as well as writing, because the film is scheduled for a release on November 2, 2018, while it will be preceded by New Mutants on April 13, 2018, and Deadpool 2 on June 1, 2018. In the meantime you can reacquaint yourself with arguably the finest film of the X-Men franchise yet, as Logan is now available on Digital HD, while it will be on Blu-ray, DVD and 4K Ultra HD on May 23rd. This also includes Logan Noir, the black and white version of the film, which is an absolute treat to absorb.
Your Daily Blend of Entertainment News
Thank you for signing up to CinemaBlend. You will receive a verification email shortly.
There was a problem. Please refresh the page and try again.