The Insane Way Dunkirk Shot Those Amazing Aerial Shots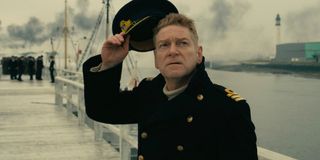 Before Christopher Nolan's latest feature, Dunkirk, had opened in theaters, the debate raged about the proper format for viewing. Would you do 35mm or 70mm, which presents more of the director's captured image or -- on a traditional screen -- presents it in what amounts to a higher resolution? Or would you be one of the luckiest ones to be able to see Dunkirk in proper 70mm IMAX, which screens the movie as Nolan would prefer. Now that the movie is out, though, and we can discuss what's actually shot, we realize that the reason Nolan wants people to see Dunkirk in 70mm IMAX is because he shot BREATHTAKINGLY stunning aerial war scenes, and that format is the right way to view them. But how did he capture those shots? Nolan explained:
The best part about that story, which Christopher Nolan was relaying to USA Today in the wake of his film's huge success, is that the IMAX cameras can only shoot three-and-a-half minutes of action in any given moment. As a result, this meant that the planes with the IMAX cameras were constantly landing, reloading, and taking off again. That interminable process is likely a huge part of the reason why no one before Christopher Nolan had even thought of attempting these types of shots, let along pulling them off. Dunkirk aerial coordinator Craig Hosking told USA Today:
But fly, it did. A third of Christopher Nolan's Dunkirk is told from the cockpit of Tom Hardy's war plane, which managed a reserved fuel source as it protected the soldiers on the beach at Dunkirk from roaming enemy predators. And in those moments, Nolan takes full advantage of the massive canvas that is the IMAX screen. I caught Dunkirk in 70mm but not IMAX, and the aerial shots were so gorgeous, they have convinced me to return and see it in the IMAX presentation, just for the mid-air scenes.
The Dunkirk trailer tries to do it justice:
Dunkirk continues to perform well at the box office, and is benefitting from the IMAX bump as word of mouth on the picture and its imagery swirls. The movie is expected to contend for year-end awards, though I have to wonder if DVD screeners will damage the movie's impact, as it is constructed to be seen on the biggest screen possible. Time will tell. For now, Dunkirk is in theaters. You can go here to read our full review on Christopher Nolan's latest.
Managing Director at CinemaBlend. ReelBlend cohost. A movie junkie who's Infatuated with comic-book films. Helped get the Snyder Cut released, then wrote a book about it.