The New Dunkirk Trailer Is Chilling And Suspenseful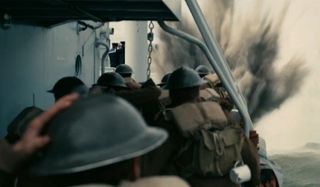 Christopher Nolan's upcoming take on the evacuation of Dunkirk during the early stages of the Second World War has some film fans practically salivating in anticipation. Not just because it is the British director's first dabble within the war genre, but because his three-pronged look at the operation has all the hallmarks of an instant classic. The latest trailer for Dunkirk has managed to amp up the hype even further, giving us a more detailed look at the impending blockbuster, and you can devour the footage all for yourself by simply taking a look.
Epic. Absolutely epic. Sure it was slightly slower than I expected, but this made the trailer more engrossing, not less, and it gave us extra insight into how the film will unfold, and why it will, hopefully, be so immense. I mean, how can Tom Hardy taking on the Luftwaffe not be sensational? At the same time, Kenneth Branagh looks as though he's going to be shouldering an awful lot of responsibility for what's described as a "colossal military disaster," while I can already tell that Mark Rylance's stoic sailor is going to be both wise and a delight. Plus Christopher Nolan seems to have perfect control as he mixes up stirring, grandiose images of soldiers on the beaches and at sea with tight, cramped shots of them on ships, and then being suddenly being thrust into action, all while underlining just how drastic the situation had become.
In order to do the story of Dunkirk justice, Christopher Nolan has assembled a fine array of British actors, while he has also decided that in order to give it the scope, scale, and detail required he needed to depict the evacuation from three different perspectives. Tom Hardy's character will depict it from the air, Mark Rylance will show the evacuation from the sea and by the navy, while Kenneth Branagh will be in charge of getting soldiers off the beach. Tom Hardy, Mark Rylance, and Kenneth Branagh will be joined by Christopher Nolan stalwart Cillian Murphy, Harry Styles, James D'Arcy, Jack Lowden, and Aneurin Barnard in the film, too, while back in March the director teased to French magazine Premiere that they will each be in for a rough ride, as he's not concerned with dialogue or back-story, and instead just wants audiences to wonder, "Will they get out of it? Will they be killed by the next bomb while trying to join the mole? Or will they be crushed by a boat while crossing?"
Sounds like pretty intense stuff, and it will have to be in order for Christopher Nolan to match the highs of the genre. By making his own war film, Christopher Nolan is immediately going up against the likes of Saving Private Ryan, The Bridge On The River Kwai, The Great Escape, The Longest Day, The Pianest, Inglorious Basterds, Das Boot, Kelly's Heroes, and A Bridge Too Far, and that's just those that have depicted the Second World War. But if there's one modern director that is capable of not just matching but eclipsing the above efforts, while also bringing a fresh, modern, but reverent twist on films of such ilk, it's Christopher Nolan.
In fact, over the course of The Dark Knight Rises, Inception, and Interstellar, Christopher Nolan has clearly been getting more ambitious and poignant with his material, which should set him in good stead for his take on Dunkirk. We'll finally get to see what he comes up with when Dunkirk is released on July 21.
Your Daily Blend of Entertainment News
Thank you for signing up to CinemaBlend. You will receive a verification email shortly.
There was a problem. Please refresh the page and try again.