Why Zack Snyder Didn't Get Involved With Justice League Again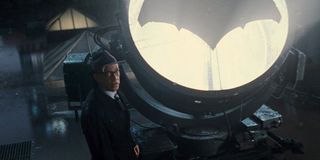 If you've been keeping tabs on Zack Snyder over the last few days, you may have seen that he's back to work and busy with a new short film made on an iPhone. However, while he's been busy with that short film, he absolutely hasn't stepped anywhere near Justice League, which is presumably still making final touches after reshoots. He's not even popping in to see the movie through to the end, recently noting that he's been happy to step away and refocus. Snyder said:
Speaking for the release of the Snow Steam Iron short, Snyder did get off topic a bit to talk all things Justice League. The flick's former director also told Wired that all things considered, it was a good move to totally step back from the upcoming DC flick. He said it would be "unfair in a lot of ways," to return after taking a break, which is why he didn't try to go back.
I don't know exactly what those different ways it would be unfair are in total, but I would assume that some of that has to do with Joss Whedon, who isn't exactly some Joe Schmo director Warner Bros. plucked from obscurity to finish the product. He's a heavy hitter in his own right, and assumedly had his own ideas for how the project needed to be finished. Once people--in this cast the cast and crew--get into a groove with working with a new person, presumably it would be difficult for the original director to come back in any way, shape or form. No one wants to step on anyone's toes. Zack Snyder stepped down, and now he feels the best thing is to step out of the way and let them get the job done.
The news comes about four months after we learned Zack Snyder would be leaving Justice League following the death of his daughter Autumn Snyder. Ms. Snyder had committed suicide a few weeks before the announcement was made, and Zack and his wife Deborah Snyder both decided the right thing to do was to step away from their DCEU duties. At that time, Joss Whedon was brought in, and we're still waiting to see what the final fruits of their combined labor will look like.
There have been a lot of big projects that have lost directors recently. The circumstances for Zack Snyder's departure are a little different than something like Phil Lord and Chris Miller getting fired from the still untitled Han Solo movie, and surely Zack Snyder's lack of a presence on the DC project has been apparent, even if Joss Whedon is able to fit into the gap neatly. Snyder's been the man behind the camera on DC projects for a long time. He's also been the guy that has struck the tone for most of the recent DC movies. Obviously, Patty Jenkins has proven that a more light-hearted tone and straightforward premise can work, and it'll be interesting to see what Justice League looks like now that Joss Whedon is involved. Justice League could end up being a little different than previous Snyder's efforts due to Whedon's influence.
For instance, we should note we don't have a straightforward answer regarding how extensive the reshoots have been. Maybe Justice League will still look mostly like a Snyder project, and maybe the changes will be more noticeable. Whatever happens, you can catch the final product when it hits theaters on November 17. While you wait, take a look at what we know about the upcoming movie.
Your Daily Blend of Entertainment News
Reality TV fan with a pinch of Disney fairy dust thrown in. Theme park junkie. If you've created a rom-com I've probably watched it.