Man Accused Of Fleeing Scene Of Accident, Then Parking To Watch A Movie In His Car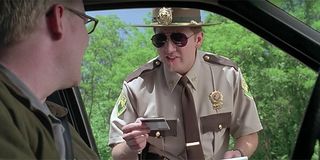 Modern technology is a wonderful thing. You have access to all of your entertainment on a device that fits inside your pocket that you can access any time. Want to catch up on Stranger Things while on the train to work? No problem. Riding shotgun on a road trip and want to watch Guardians of the Galaxy Vol. 2? Easy peasy. While not delivering the full cinematic experience, as long as you've got a charge, you can get your entertainment wherever you are. However, when you're drunk as a skunk and you just crashed into a tree, maybe your first move shouldn't be to find a place to park to watch a movie on your phone. But that's exactly what a Massachusetts man decided to do this past week.
According to the Greenfield Recorder, police responded to a call that a vehicle has crashed into a tree only to find that the vehicle had left the scene. One of the Greenfield police officers then found the red Chevy Tahoe, with front-end damage, parked in front of a local gym on Main Street. Police found the driver of the vehicle, identified as Jovon Van Guilder, with his seat in the reclined and relaxed position as he watched a movie on his phone. Despite the smell of alcohol and the two open liquor containers in his car, the suspect denied that he had been drinking. When the officer tried to locate the man's ID, he flew off the handle, because when you've already committed one crime, why not commit some more? Additional officers arrived to try and restrain Mr. Van Guilder, who opted to resist arrest and throw punches at them. Once restrained at the police station, the suspect threatened to kill the arresting officer. So yeah, great dude and clearly a fun drunk.
Now normally, if you had started driving only to realize you were too tired or had too much to drink, deciding to park and watch a movie would be a great move. Who doesn't have the occasional late-night urge to watch a movie? But doing so after you've already crashed into an innocent and unsuspecting tree is a little too late. Pro-tip: if you're going to flee the scene of an accident, a move that often backfires, you have to do better than to park on Main Street. I don't know this town, but I can't imagine the parking lot of a local business on freaking Main Street is the most concealed of locations. Also, if you get caught for doing something stupid, best to just take the L. Fighting it and doubling down just makes your situation infinitely worse. But I guess that's the problem with being an idiot. By your very nature, you can't be good at it.
As is often the case with movie-adjacent crimes, the story does not mention what movie the man was watching. This is a crucial detail to the story that the investigators need to look into. Maybe there's a link between movie choices and criminal behavior. Find the link and we can finally begin our Minority Report future and just start arresting people when they leave their showing of The Emoji Movie. Until then, stay tuned to CinemaBlend as we report on all these crimes and check out our 2018 release schedule to see what films you could be watching post-crime spree next year.
Your Daily Blend of Entertainment News
Nick grew up in Maryland has degrees in Film Studies and Communications. His life goal is to walk the earth, meet people and get into adventures. He's also still looking for The Adventures of Pete and Pete season 3 on DVD if anyone has a lead.