New Movie Releases: 2018 Movie Release Date Schedule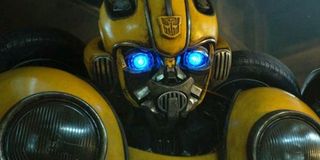 There's quite a bit to get excited about in the world of movies in 2018. Between major blockbusters like The Avengers: Infinity War and Aquaman, dark and brutal dramas like Soldado and Red Sparrow, and more humorous fare like Holmes & Watson, it seems that there's going to be something for everyone. To help make sense of everything that's coming, we have taken it upon ourselves to compile a handy guide of 2018's biggest silver screen releases so you will know exactly what's set to debut during a given week!
Of course, it's always worth remembering that Hollywood is in a constant state of flux, which means some of these dates are subject to change. Nevertheless, we will endeavor to keep this guide as up to date as possible as 2018 kicks into high gear. On that note, let's take a look ahead to the next calendar year and see what Hollywood has in store for moviegoers.
Insidious: The Last Key -- Friday, January 5
Condorito: La Pelicula - Friday, January 12
The Commuter - Friday, January 12
Paddington 2 - Friday, January 12
Proud Mary - Friday, January 12
12 Strong - Friday, January 19
Den of Thieves - Friday, January 19
Forever My Girl - Friday, January 19
Maze Runner: The Death Cure - Friday, January 26
Winchester: The House that Ghosts Built - Friday, February 2
The 15:17 to Paris - Friday, February 9
Fifty Shades Freed - Friday, February 9
La Boda de Valentina - Friday, February 9
Peter Rabbit - Friday, February 9
Black Panther - Friday, February 16
Early Man - Friday, February 16
Samson - Friday, February 16
Annihilation - Friday, February 23
Every Day - Friday, February 23
Game Night - Friday, February 23
Death Wish - Friday, March 2
Foxtrot - Friday, March 2
Red Sparrow - Friday, March 2
Gringo - Friday, March 9
The Hurricane Heist - Friday, March 9
Strangers: Prey at Night - Friday, March 9
A Wrinkle in Time - Friday, March 9
Love, Simon - Friday, March 16
Tomb Raider- Friday, March 16
Isle of Dogs - Friday, March 23
Midnight Sun - Friday, March 23
Pacific Rim: Uprising - Friday, March 23
Sherlock Gnomes - Friday, March 23
Unsane - Friday, March 23
Paul, Apostle of Christ - Wednesday, March 28
Acrimony - Friday, March 30
God's Not Dead: A Light in Darkness - Friday, March 30
Ready Player One - Friday, March 30
Blockers - Friday, April 6
Chappaquiddick - Friday, April 6
A Quiet Place - Friday, April 6
Borg vs. McEnroe - Friday, April 13
The Miracle Season - Friday, April 13
Rampage - Friday, April 13
Truth Or Dare - Friday, April 13
I Feel Pretty - Friday, April 20
Super Troopers 2 - Friday, April 20
The Avengers: Infinity War - Friday, April 27
Traffik - Friday, April 27
Bad Samaritan - Friday, May 4
Overboard - Friday, May 4
Tully - Friday, May 4
Breaking In - Friday, May 11
Life of the Party - Friday, May 11
Book Club - Friday, May 18
Deadpool 2 - Friday, May 18
First Reformed - Friday, May 18
On Chesil Beach - Friday, May 18
Show Dogs - Friday, May 18
Solo: A Star Wars Story - Friday, May 25
Action Point - Friday, June 1
Adrift - Friday, June 1
American Animals - Friday, June 1
Hereditary - Friday, June 8
Ocean's 8 - Friday, June 8
Won't You Be My Neighbor - Friday, June 8
The Incredibles 2 - Friday, June 15
Superfly - Friday, June 15
Tag - Friday, June 15
Jurassic World: Fallen Kingdom - Friday, June 22
The Hustle - Friday, June 29
Sicario 2: Soldado - Friday, June 29
Sanju - Friday, June 29
Uncle Drew - Friday, June 29
The First Purge - Wednesday, July 4
Ant-Man and the Wasp - Friday, July 6
Don't Worry He Won't Get Far On Foot - Friday, July 13
Hotel Transylvania 3: Summer Vacation - Friday, July 13
Skyscraper - Friday, July 13
The Equalizer 2 - Friday, July 20
Mamma Mia: Here We Go Again! - Friday, July 20
Mission: Impossible - Fallout - Friday, July 27
Teen Titans Go! To The Movies - Friday, July 27
The Darkest Minds - Friday, August 3
Disney's Christopher Robin - Friday, August 3
The Spy Who Dumped Me - Friday, August 3
Dog Days - Wednesday, August 8
BlacKkKlansman - Friday, August 10
The Meg - Friday, August 10
Slenderman - Friday, August 10
Crazy Rich Asians - Wednesday, August 15
Alpha - Friday, August 17
Mile 22 - Friday, August 17
A.X.L. - Friday, August 24
The Happytime Murders - Friday, August 24
Searching - Friday, August 24
Operation Finale - Wednesday, August 29
Kin - Friday, August 31
The Nun - Friday, September 7
Peppermint - Friday, September 7
A Simple Favor - Friday, September 14
The Predator - Friday, September 14
White Boy Rick - Friday, September 14
Assassination Nation - Friday, September 21
Fahrenheit 11/9 - Friday, September 21
The House With a Clock In Its Walls - Friday, September 21
Life Itself (2018) - Friday, September 21
Hell Fest - Friday, September 28
Little Women - Friday, September 28
Night School - Friday, September 28
Smallfoot - Friday, September 28
A Star is Born - Friday, October 5
Venom - Friday, October 5
Bad Times at the El Royale - Friday, October 12
Beautiful Boy - Friday, October 12
First Man - Friday, October 12
Goosebumps 2 - Friday, October 12
Halloween (2018) - Friday, October 19
The Hate U Give - Friday, October 19
Serenity - Friday, October 19
Hunter Killer - Friday, October 26
Indivisible - Friday, October 26
Johnny English Strikes Again - Friday, October 26
Stuck - Friday, October 26
Bohemian Rhapsody - Friday, November 2
Bodied - Friday, November 2
Boy Erased - Friday, November 2
A Private War - Friday, November 2
Nobody's Fool - Friday, November 2
The Nutcracker and the Four Realms - Friday, November 2
Suspiria - Friday, November 2
The Front Runner - Wednesday, November 7
Dr. Seuss' The Grinch - Friday, November 9
The Girl in the Spider's Web - Friday, November 9
Overlord - Friday, November 9
Fantastic Beasts: The Crimes of Grindelwald - Friday, November 16
Instant Family - Friday, November 16
Widows - Friday, November 16
Creed 2 - Wednesday, November 21
Ralph Breaks the Internet: Wreck-It Ralph 2 - Wednesday, November 21
Robin Hood - Wednesday, November 21
Second Act - Wednesday, November 21
The Favourite - Friday, November 23
Shoplifters - Friday, November 23
Anna and the Apocalypse - Friday, November 30
If Beale Street Could Talk - Friday, November 30
The Possession of Hannah Grace - Friday, November 30
Ben is Back - Friday, December 7
Mary Queen of Scots - Friday, December 7
The Silence - Friday, December 7
Under the Silver Lake - Friday, December 7
Vox Lux - Friday, December 7
Mortal Engines - Friday, December 14
The Mule - Friday, December 14
Second Act - Friday, December 14
Spider-Man: Into the Spider-Verse - Friday, December 14
Mary Poppins Returns - Wednesday, December 19
Aquaman - Friday, December 21
Bumblebee - Friday, December 21
Untitled Deadpool Movie - Friday, December 21
Welcome to Marwen - Friday, December 21
Destroyer - Tuesday, December 25
Holmes & Watson - Tuesday, December 25
Vice - Tuesday, December 25
On the Basis of Sex - Wednesday, December 26
Stan & Ollie - Friday, December 28