How The Disney Fox Deal Could Change The Streaming Game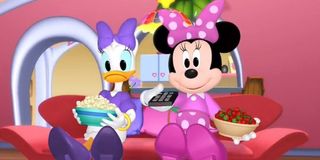 You thought it was all about the X-Men, the Fantastic Four and the upcoming Avatar films (all four of them, if we actually get that far). And that's true, to a certain extent. But as we step back and analyze the full picture on the still-developing Disney acquisition of 21st Century Fox and most of its key assets, we begin to realize that this also was a strategic move by Walt Disney to solidify its catalogue as it prepares to launch a streaming service that will compete against Netflix, a battle for consumer attention that's expected to begin in earnest in 2019.
The name of the game, in the coming years, will be selling original and archived content directly to consumers via streaming services. Disney recently realized this, and began taking steps toward establishing a new streaming service. There was talk of Disney pulling its content -- including the Marvel movies and all Disney animated programming -- off of Netflix so that it would live on the new streaming service. Now, with the Fox acquisition, Disney has an even-larger catalogue of back-dated films and television shows that it also will be able to stream for potential customers.
As is noted in the L.A. Times piece on this Disney-Fox deal, Daniel Ives, the head of technology research for GBH Insights, explained:
And in a conference call with investors that was covered by Variety, Disney CEO Bob Iger (who revealed he will be staying with Disney through 2021) told them that building up a stronger direct-to-consumer offering is "vital" to Disney's future as the company heads into a changing landscape where media companies like Amazon, Hulu, Netflix and even YouTube change the way that people watch television and films in their homes.
The reason that this aspect of the story can't fully be buttoned down is because the landscape of streaming entertainment is changing by the month as content providers shuffle around in an ever-expanding game of musical chairs, waiting to see where the music will stop. In the past, major studios like Sony, Fox, Universal and Disney had to make deals with existing and influential streaming services to get their films and television programs in front of audience eyeballs. Disney is now changing that model by acquiring more content, then creating its own streaming service -- likely ready to launch by 2019 -- and filling it with the types of movies and TV shows that consumers will be willing to pay to have at their fingertips.
Could this eventually extend into the production of original programs and films that are created specifically for these streaming services? That would seem inevitable. By the underlying factor behind a large chunk of Disney's current acquisition of Fox appears to be the solidification of its vast library to be made available on a new streaming service. The addition of properties like the X-Men and the Fantastic Four to the MCU (and deals like this) are just tasty gravy on an already delicious deal for the Mouse House.
Managing Director at CinemaBlend. ReelBlend cohost. A movie junkie who's Infatuated with comic-book films. Helped get the Snyder Cut released, then wrote a book about it.
Your Daily Blend of Entertainment News
Thank you for signing up to CinemaBlend. You will receive a verification email shortly.
There was a problem. Please refresh the page and try again.