10 Years Later: Ranking The 10 Best Movies Of 2008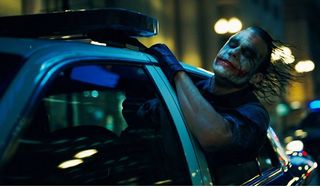 At around this time 10 years ago, the movie world couldn't have imagined what was about to happen. With a year that started with the American remake of One Missed Call, it wasn't long after that point that the first surprise hit of 2008 would hit theaters. What would follow throughout the entirety of 2008 was a series of game changers and underrated hits mixing it up, marking a new epoch in modern cinema.
The doldrums of the early Aughts were officially gone, and our current era of experimental and groundbreaking filmmaking officially was upon us. And in the year 2008, the following 10 films turned out to be the most memorable entries into contemporary box office history.
10. The Wrestler
2008 was a year that saw some successful comebacks mounted by folks like Robert Downey Jr., and in the case of Darren Aronofsky's The Wrestler, Mickey Rourke. The latter film tells the story of Rourke's Randy "The Ram" Robinson, a wrestler who tries to rescue himself from the depths of personal and professional obscurity, in the name of making up with his daughter and being able to stand proud once again. While playing a fictional character, Rourke lends a semi-autobiographical flare to his performance, drawing on his own experiences as a boxer. There are moments when you can literally see his heart breaking on screen, and Aronofsky captures all of this beautifully in one of the relatively warmest and most poignant films of his career.
9. Step Brothers
Released in the thick of Will Ferrell's streak of comedy hits, Step Brothers was the second team-up between Ferrell and Talladega Nights co-star John C. Reilly. It was this movie that cemented the partnership between the two clowns, and it's quite possibly their best work together, as their man-child personas raised all sorts of hell for their beleaguered parents, played by Mary Steenburgen and Richard Jenkins. If you don't remember the words "Catalina Wine Mixer" and their original context, then it's time you go back and watch this one fresh.
8. Burn After Reading
After the Coen brothers won the trophy for Best Picture with No Country For Old Men in the previous year, the brothers would release a dark comedy to sort of balance out the bleak outlook their Cormac McCarthy adaptation held on the human race. While the cartoonish characters of Burn After Reading aren't exactly nicer, better, or smarter people, they are indeed a hell of a lot funnier. John Malkovich's fired CIA agent-turned-provocateur starts the madness off when he loses his memoirs, and everyone from George Clooney and Tilda Swinton, to Frances McDormand and Richard Jenkins gets involved in the game. But quite possibly, the MVP of Burn After Reading is Brad Pitt's bubble-headed gym employee, who never knows what he's doing but does it in style.
7. Cloverfield
Picture this: 2007 -- the first Transformers movie is about to screen, and you're sitting through the previews. Out of nowhere, a mysterious trailer starts to play, where a farewell party turns into a scramble for life and death that looks more like a monster movie. For months, the film was known as "1-18-08," without any official title or plot details given until months later, when Cloverfield was officially named. With a brilliant viral marketing campaign that told the story leading up to the actual film, a tale of larger-than-life monsters and New York City's destruction was in the cards. In the end, all of the teasing made the wait worthwhile, as Matt Reeves' rewarding film would be the start of a whole new universe that continues to this day.
6. Tropic Thunder
Topical humor doesn't always age well in cinema, but as far as Tropic Thunder's digs at Hollywood go, they're still as fresh as they were the first time through. Ben Stiller, Jack Black, and Robert Downey Jr. were a comedic triple threat in this movie that spoofed everything from the power of celebrity to the movie-making system itself, and did so with an equal measure of laughs and explosions. With a trio like that, you could easily rest on the A-plot to make all of the laughs. However, that's not the case with Tropic Thunder, as it also staffs its B-plot with the likes of Matthew McConaughey, Bill Hader, and most hilariously of all, Tom Cruise in a fat suit playing the world's meanest studio head. Hey Paramount, how about that Les Grossman movie we were promised?
5. Iron Man
The second seismic shift in Hollywood to take place in 2008 was another big decision to come out of Paramount's gates. Taking a chance on the then-still-recovering Marvel Comics brand, the studio made arrangements to help them create the Marvel Cinematic Universe. With Robert Downey Jr. taking the lead as Tony Stark, Jon Favreau's Iron Man was seen as a hell of a gamble on what was once a B-level title in Marvel's ranks. Of course, all it took was one kick-assed adventure, and a hell of a post-credits teaser that promised the full Avengers Initiative, and the world was ready for the MCU's full-fledged takeoff. Everything that happened after that point would make comic book movies a multi-billion dollar game, with Disney eventually buying Marvel as a result of the success this film would see.
4. Frost / Nixon
Ron Howard has an amazing gift of turning historical events into perfectly crafted suspense dramas. He'd done this prior with Apollo 13, but Frost / Nixon was arguably the harder project of the two to pull off. While still interesting in their own right, the legendary interviews between David Frost and Richard Nixon aren't a natural fit for what some may consider a silver screen friendly pot-boiler. And yet, with Michael Sheen and Frank Langella facing off as they did in the stage version of that same story, the infamous interviews came to life in such a way that a filmed adaptation was more than just a good idea. Once again, history came to life, and drama was served another well-regarded entry into its canon.
3. In Bruges
Up until the production of In Bruges, writer/director Martin McDonagh was primarily known for stage plays that conveyed his brand of dark humor and violent action. Yet, 2008 brought him his first full-fledged feature film, with Colin Farrell and Brendan Gleeson taking the lead roles of hitmen exiled to the idyllic European city of the title. But, in true McDonagh fashion, the plot unravels like a finely crafted watch, in a fashion that truly shows off his playwright roots. With clever profanity, quotable sequences, and a third act that walks a bittersweet line of closure, In Bruges is a hell of a feature film debut for a writer/director (see how he evolved with the current Three Billboards), and still holds up to this day.
2. Wall-E
In the midst of their boundary pushing phase, Pixar created a film that opens with almost an entirely dialogue free first act, relying solely on the names of its characters, and some broad silent humor. This is the ingenious way that Wall-E opens, as it helps us identify with our hero's limited vocabulary, but also his limitless capacity for altruism. What starts as a simple day in the life story of a trash-collecting robot turns into a love story, which then mutates into a revolution against a future where Capitalism has run rampant, and humanity is at its laziest. And all of that is done in such a way that kids can still enjoy it! Wall-E is one of the last films from Pixar's "lightning in a bottle" era, and it's destined to be a classic as the years go by.
1. The Dark Knight
What happens when you take a comic book story, but infuse it with an extremely grounded / gritty air about it? You get a film like Christopher Nolan's The Dark Knight, which basically feels like Michael Mann's Heat, only told on the Gotham City battleground. Heath Ledger's Joker is the lynchpin to this narrative, and he holds everything together in brilliant fashion that his scenes can't help but grab you by your lapels - even after a decade. But the morals on ever evolving surveillance technology, the truths that are best concealed, and the limits to which an untethered hero should operate within all cement The Dark Knight as the best film of 2008, as well as the best comic book film that's ever been made. Well, at the very least, it's the best DC movie, hands down.
This poll is no longer available.
Your Daily Blend of Entertainment News
Senior Movies Contributor
CinemaBlend's James Bond (expert). Also versed in Large Scale Aggressors, time travel, and Guillermo del Toro. He fights for The User.