Two Teens Allegedly Held Up A Movie Theater Concession Stand At Gunpoint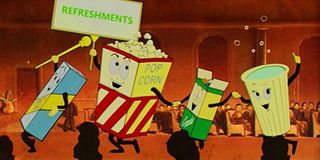 I don't know what it is about movie theaters that seem to attract all manner of stupidity, but they are clearly one of society's many proving grounds for the ubiquity of the Dunning-Kruger Effect. In the latest news from what I imagine will be our ever-continuing movie theater crime beat, two teens in Tulsa, Oklahoma allegedly held up a dollar movie theater's concession stand.
The robbery took place at the Searchlight Cinemas in Tulsa last Sunday. Two men between the ages of 17 and 20 entered the theater and pulled their hoodies tight around their faces before holding up the concession stand at gunpoint and demanding "the bread." According to FOX23, witnesses were able to give good descriptions of the two men, and there is decent security camera footage from multiple angles to go on as police conduct their search. Fortunately, no one was injured, and it was only the theater that was robbed, as it seems that no theatergoers were in the area at the time to be susceptible to being robbed as well. The police also noted that this is a very rare kind of robbery, and that the men did not make off with a lot of money.
All right, there's a lot of stupidity to unpack here, so let's get to it. These clowns robbed a dollar movie theater. An easy and unexpected target, I suppose, but it is still a dollar theater. What did they make away with, $200 bucks max? Bravo, I'm sure the strippers will be real impressed. That's not a lot of return on investment for the potential legal consequences of an armed robbery. Plus, they robbed the place on a Sunday night. Sure it's a weekend, but while the place is probably less busy, which is beneficial, those registers are also probably less full. As an aside, I had no idea dollar theaters still existed and lament that I do not live near one. Dollar theaters are great and their slow demise is a true tragedy.
Moving on, have these guys never seen a movie? They clearly didn't case the place first to see if there were security cameras, and if they did, they thought just pulling their hoods tight over their heads would be enough? Granted, they haven't been caught yet, but it just seems like a tactical error to me. They couldn't even bother to splurge on or steal some ski masks? Completely covering your face has to greatly reduce the chances of you being identified. The fact that the report says the witnesses gave good descriptions tells me that those hoods were not pulled nearly tight enough. Ignorance of one's own stupidity is a common and often fatal flaw, so with any luck these two will be caught soon.
For all the latest in why we can't have nice things, stay tuned to CinemaBlend. And if you don't want to let criminal stupidity win, go to the movie theater. You can see what's playing this year in our release schedule.
Nick grew up in Maryland has degrees in Film Studies and Communications. His life goal is to walk the earth, meet people and get into adventures. He's also still looking for The Adventures of Pete and Pete season 3 on DVD if anyone has a lead.
Your Daily Blend of Entertainment News
Thank you for signing up to CinemaBlend. You will receive a verification email shortly.
There was a problem. Please refresh the page and try again.