How One AMC Theater Is Cracking Down On Teens At The Movies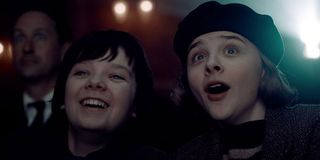 Teens are a pretty big segment of the moviegoing audience, but they are also a pretty big cause oftroublemaking at the movies. From making out to spending time on their phones, there's a lot that teens can and have done to disrupt the average moviegoer's experience. Presumably to crack down on the issues and disruptions that teens can cause in theaters, one theater has decided to stop allowing teens to buy tickets after 7 p.m. In fact, if those teens want to see a movie at all, they'll have to be accompanied by an adult.
Looks like the AMC Classic Peachtree 8, located in Columbus, Georgia, is going to be doing a lot of carding starting right about now. The theater confirmed this week that those movie theater customers wanting to catch a movie after 7 p.m. will need to be over 18 or will need to be accompanied by an adult, per the Ledger-Enquirer.
There are obviously questions I have about this rule. First, can a parent or young adult who is over 18 simply buy tickets for a pack of teens to enter the theater and then go to another movie? Is an usher actually going to watch the teens walk in with said parent. Also, can a teen who is over 18 purchase tickets for their high school-aged pals? Most of us can probably remember running around with older teens when we were in high school. Also, I can guarantee I would have happily bought tickets to movies for my younger siblings if they paid my fare in. We'll have to wait and see if the new plan works, as it looks like it is just coming together at the Peachtree 8.
This isn't the first time that theaters have tried banning a faction of the population from movies, and it likely won't be the last. Previously, we've heard about movie theaters that have banned kids under the age of 6 from R-rated movies. Another theater in Tennessee recently adopted the 7 p.m. rule after teenagers got into a brawl in the theater. Following the incident, the theater adopted a no-tolerance policy. You can see the brawl from that incident, below.
Interestingly, the theater in Georgia that is trying this tact is an AMC, and while there's no indication right now that this will become a widespread trend at AMC theaters, if it goes well, there is the potential for this to be the wave of the future at theaters across the country. There are pros and cons. Teens won't be buying tickets to animated movies and then attempting to sneak into R-rated flicks after 7 p.m. anymore, presumably, which is a pro. Still, it's not so great for PG-13 movies, flicks which often do quite well with teenaged audiences.
We'll have to wait and see if this becomes a more widespread policy in theaters. In the meantime, how do you feel about the new set of rules?
This poll is no longer available.
Reality TV fan with a pinch of Disney fairy dust thrown in. Theme park junkie. If you've created a rom-com I've probably watched it.
Your Daily Blend of Entertainment News
Thank you for signing up to CinemaBlend. You will receive a verification email shortly.
There was a problem. Please refresh the page and try again.