Solo: A Star Wars Story Wants To Make It Clear To Everyone Han Shot First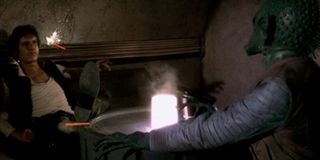 The following contains significant spoilers for Solo: A Star Wars Story. Read at your own risk.
One of the most controversial decisions in the Special Editions of the original Star Wars trilogy was the adding of a single laser blast that changed an early scene in Star Wars: A New Hope. The new Han Solo prequel has something to say about that. The question of "who shot first?" has been an ongoing one ever since the answer changed in the late 1990s, but a scene at the end of Solo: A Star Wars Story makes it very clear that it believes Han shot first, by almost literally spelling it out.
In the original version of Star Wars: A New Hope, Han Solo is confronted by Greedo who, at the behest of Jabba the Hutt, has been looking for the smuggler to settle his debt with the space gangster. Realizing that Greedo plans to kill him, Han preps his blaster under the table and uses it to kill Greedo with a point-blank shot in the booth at the Mos Eisley cantina. But when George Lucas made his numerous changes to the Star Wars trilogy, he added a shot from Greedo that went wide, showing that Han was actually only defending himself from the bounty hunter.
A young Han Solo finds himself in a similar standoff, though in a very different setting, at the end of Solo: A Star Wars Story. Han's former partner and mentor Beckett has double-crossed him, for the second time in a matter of minutes, and escaped with the valuable cargo the crew worked so hard to acquire. He's also done so by holding Chewbacca at gunpoint. Han arrives to stop Beckett and rescue Chewie, and the two find themselves in a standoff, each pointing a blaster at each other. Beckett, who attempted to prepare Solo for possible double crosses, begins to tell Han that he's now going to teach him another important lesson. But before Beckett's able to say another word, he takes a blaster shot to the chest.
It turns out, Han Solo already knows what the next lesson was. Lesson #2: Always shoot first.
Screenwriters Lawrence and Jon Kasdan have already spoken about the fact that it was important to them, that Solo: A Star Wars Story deal with this issue and make a clear decision about it. Both firmly believe that Han shooting first is the way A New Hope should always go, so they wanted this scene to be clear regarding what we saw.
Now, regardless of which version of Star Wars: A New Hope you think is the "right" one, we can see that Han Solo is the guy who shoots first. Firing his iconic DL-44 blaster puts an end to most problem and puts him on top. His skill with a blaster would be one of the many ways he survives the iconic Galactic Civil War. That, and his trusty Millennium Falcon. And in Solo, we see how he got them both.
For the most part, it seems the only person who ever though Han shooting second was a good idea was George Lucas. After looking back at Han's complete story in the original trilogy, Lucas decided decided he was more of a John Wayne, heroic cowboy type figure than the criminal smuggler he appeared to be. John Wayne would never shoot first, and so neither would Han. On the other side, making Han less sympathetic at the beginning of his journey is what makes his transformation into a rebellion hero so powerful.
If Han would shoot his friend and mentor Beckett, it stands to reason that he would do the same thing to Greedo, a Rodian Han clearly had no respect for.
You can catch Solo: A Star Wars Story in theaters now.
Your Daily Blend of Entertainment News
Content Producer/Theme Park Beat
CinemaBlend's resident theme park junkie and amateur Disney historian. Armchair Imagineer. Epcot Stan. Future Club 33 Member.
Your Daily Blend of Entertainment News
Thank you for signing up to CinemaBlend. You will receive a verification email shortly.
There was a problem. Please refresh the page and try again.