Why Sylvester Stallone Picked Dolph Lundgren For Rocky IV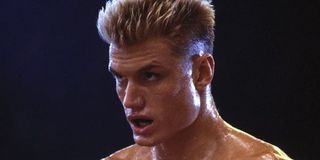 We're now only days away from watching Ivan Drago make his grand return to the Rocky universe in Creed II, which means that many fans of the film series, if they haven't already, will be re-watching Rocky IV for a refresher on The Siberian Express' debut. Drago is arguably the most physically menacing of the Rocky franchise antagonists, and that was the point, as Sylvester Stallone recently noted that he saw the character as a "monster" with a "very thick wall of power." So when Dolph Lundgren sent some pictures in through his acting coach, eventually they passed in front of Stallone's eyes and he became intrigued. As Stallone recalled:
Rocky IV certainly did a good job of propping Ivan Drago up as a near-perfect physical specimen, although it is heavily hinted that some of his strength comes from steroid injections. With Dolph Lundgren exuding that "flawless" quality," it makes sense that Sylvester Stallone picked him to bring Drago to life. Whereas Rocky Balboa has plenty of issues and, at the start of Rocky IV, isn't as fit as he once was, Drago is at his prime during this movie.
That contrast worked great for Rocky IV, as Sylvester Stallone mentioned while plugging Creed II on the movie's social media channels, but in the end, Ivan Drago was defeated. All his power and intimidation weren't enough, as thanks to Rocky going through his most intense training montage to date, he managed to beat Drago, avenge Apollo Creed's death and basically bring an early end to the Cold War. Not bad for a movie's work.
Over 30 years later, Ivan Drago is back to make Rocky Balboa's life hell in Creed II. Dolph Lundgren was initially hesitant to reprise Drago because he didn't want to hurt the character's image, but once he read the sequel's script, he decided to jump on board to depict Drago in a vulnerable state.
In Creed II, Ivan Drago pops back on Rocky's radar because he wants his son, Viktor Drago, to fight Adonis Creed in the ring. Having lost everything following his fight with Rocky all those years ago, Ivan sees Viktor as his ticket to regaining glory, and he won't let anything stand in his way. And just because Viktor vs. Adonis will be the main conflict in Creed II, don't think that doesn't mean Ivan and Rocky won't get into their own tussle.
Creed II punches its way into theaters on November 21. As for what else these remaining weeks of 2018 have in store, check out our holiday premiere guide for that information.
Connoisseur of Marvel, DC, Star Wars, John Wick, MonsterVerse and Doctor Who lore. He's aware he looks like Harry Potter and Clark Kent.
Your Daily Blend of Entertainment News
Thank you for signing up to CinemaBlend. You will receive a verification email shortly.
There was a problem. Please refresh the page and try again.